JERUSALEM (CNN) -- Israel's centrist Kadima is maintaining its one-seat lead over right-wing Likud but with about 100,000 ballots yet to be counted the result is not yet official, the Central Elections Committee said Thursday.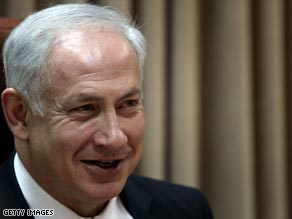 Benjamin Netanyahu's Likud is running second in the popular vote but could form the next ruling coalition.
About 99 percent of the vote has been counted and the parties have already begun negotiations to form a ruling coalition in the 120-seat Knesset.
The elections committee said ballots from such people as soldiers and diplomats remain to be counted, and final certification of the vote totals won't come until next week.
Kadima, led by Foreign Minister Tzipi Livni, won 28 seats to 27 for former Prime Minister Benjamin Netanyahu's Likud.
The far-right Yisrael Beytenu, led by Avigdor Lieberman, surged to third place with 15 seats, besting Defense Minister Ehud Barak's Labor Party.
The Orthodox movement Shas came in fifth with 11. Smaller parties from left to right each received a handful of votes.
The results reflect the electorate's move to the political right.
Likud gained 15 seats and Yisrael Beytenu picked up four, according to the preliminary totals. Kadima's representation is unchanged, but once-powerful Labor's fall to fourth-place -- dropping five seats -- is an unprecedented weak showing.
Livni's failure to assemble a ruling coalition for Kadima last year triggered Tuesday's elections. Now she must find at least 33 more lawmakers to forge a coalition.
She told supporters after the vote that the narrow edge Kadima appears to have over Likud shows her party is "the common denominator of Israeli society."
Don't Miss
Livni called on Netanyahu "to respect the choice of Israel's citizens ... and to join a unity government, led by us, that will be based on the large parties in Israel, left and right."
Netanyahu said the showing by Likud -- more than doubling the number of seats it holds in the Knesset -- shows voters have rejected Kadima's leadership, and he predicted right-leaning parties will be able to form a majority.
"With God's help, I shall head the coming government," he said. "I am sure that I can manage to put together a good, broad-based and stable government that will be able to deal with the security crisis and the economic crisis."
The election campaign was dominated by the recent war with Palestinian militants in Gaza, which was popular within Israel despite widespread international condemnation.
Netanyahu was a harsh critic of Kadima founder Ariel Sharon's 2005 withdrawal of Israeli troops and settlers from Gaza, and his supporters say he has been proven right.
Livni took control of Kadima in September, when Prime Minister Ehud Olmert stepped down as the party leader amid several corruption investigations.
Her campaign touted her role in the Gaza campaign and tough statements about not allowing Hamas to decide Israel's fate.
Netanyahu served as prime minister from 1996 to 1999. He has supported the expansion of Israeli settlements on the West Bank and has opposed making further territorial concessions in hope of ending the decades-old Israeli-Palestinian conflict.

Yisrael Beytenu is led by Avigdor Lieberman, a polarizing figure whose party has been accused of racism against Palestinians and Arab citizens of Israel.
But he said early Wednesday that his party "is not only the key to the next coalition, it will also set the agenda for the next government."
E-mail to a friend

All About Israel • Tzipi Livni • Benjamin Netanyahu • Israeli Politics