JERUSALEM (CNN) -- Israel will retaliate against Palestinian-controlled Gaza with a "painful, sharp, strong and uncompromising response" if rocket attacks do not stop, Israeli Prime Minister Ehud Olmert said Sunday.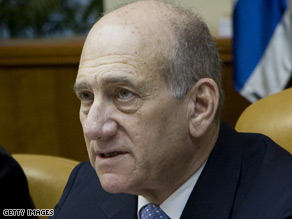 Israeli Prime Minister Ehud Olmert says Israel will respond if rocket attcks from Gaza don't stop.
He warned "terrorists" that they would not be able to anticipate Israel's moves.
"The Israeli response will -- in no way -- be what the terrorist organizations expect. The state of Israel has a wide range of options that will be utilized in order to bring complete quiet to the south," he said Sunday at the start of the weekly Cabinet meeting.
Rocket fire from Gaza, which is run by the militant Hamas movement, was the main reason cited for Israel's three-week assault on the territory in December and January. The air and land campaign left about 1,300 Palestinians dead. Thirteen Israelis died.
But rocket attacks into Israel continue.
Over the weekend Palestinians fired nine rockets into southern Israel. One of them slammed into an empty school in the city of Ashkelon, causing extensive damage. Since the end of the military operation in Gaza, over 110 rockets have been fired into Israel, a spokeswoman for Israel's military said.
Don't Miss
Tony Blair, the former British Prime Minister who is now an international envoy for the Middle East, visited Gaza Sunday, his office announced.
"I wanted to come to hear for myself, first hand, from people in Gaza whose lives have been so badly impacted by the recent conflict," he said.
Blair met with business leaders and representatives of nongovernmental organizations, as well as the top U.N. humanitarian official in Gaza and the Palestinian Water Authority.
His visit precedes an international donors' conference on Gaza at the Egyptian resort of Sharm al-Sheikh, which begins Monday.
Secretary of State Hillary Clinton is expected to attend, as are European and Middle Eastern leaders.
E-mail to a friend

CNN's Shira Medding contributed to this report.
All About Israel • Gaza • Ehud Olmert