(CNN) -- Interpol has denied "erroneous" media reports that Iran has asked it to help arrest Israeli leaders that Tehran has accused of war crimes.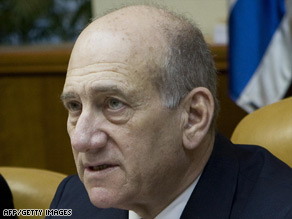 Iran is reported to have called for the arrest of PM Ehud Olmert on war crimes charges for Israel's Gaza offensive.
"Interpol has neither been requested to issue by Iran, nor has it issued on behalf of Iran or any of its 187 member countries any Red Notices for persons wanted internationally or other requests seeking the arrest of senior Israeli officials," said a statement issued on Monday by Interpol's General Secretariat headquarters in Lyon, France.
It said Interpol "does not ordinarily comment on false stories reported in the media."
Iranian Students' News Agency reported Sunday that Tehran's top prosecutor called for the arrests of 15 Israeli leaders on charges of war crimes stemming from the Jewish state's recent military operation in Gaza. Those leaders include outgoing Prime Minister Ehud Olmert, Defense Minister Ehud Barak, and Foreign Minister Tzipi Livni.
The semi-official news agency reported that the prosecutor called on Interpol to issue arrest warrants for the "war criminals."
Interpol said that its constitution "strictly prohibits the organization from making 'any intervention or activities of a political, military, religious or racial character.'"
Iran has been engaged in an escalating war of words with Israel, which it accuses of trying to destabilize the republic. Iran has repeatedly expressed its objection to Israel's military operation in the Palestinian territory of Gaza.
For its part, Israel has raised concerns about Iran's nuclear program, which the Islamic republic insists is only for peaceful purposes.
The United States believes that Iran likely has enough material to make a nuclear weapon, Joint Chiefs of Staff Chairman Adm. Mike Mullen told CNN's John King on Sunday.
"We think they do, quite frankly," Mullen said on CNN's "State of the Union," when asked whether Iran "might now have enough fissile material to make a bomb."
"Iran having a nuclear weapon, I believe, for a long time, is a very, very bad outcome for the region and for the world," Mullen added.
His statement was rejected by Iran's Foreign Ministry.
"All this talk about a nuclear bomb is extremely unfounded," ministry spokesman Hassan Qashqavi said Monday at a news conference.
"Our program is controlled with surveillance cameras. The amount of enriched uranium, everything that is produced is under supervision."
E-mail to a friend

CNN's Reza Sayah contributed to this report.
All About Iran • Israel • Gaza • Ehud Olmert