By Jill Dougherty
CNN Foreign Affairs Correspondent





JERUSALEM (CNN) -- U.S. Secretary of State Hillary Clinton on Tuesday ruled out working with any Palestinian unity government that includes Hamas if Hamas does not agree to recognize Israel.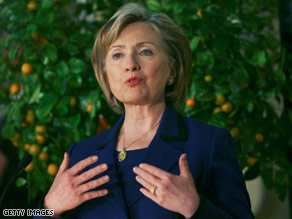 U.S. Secretary of State Hillary Clinton met with Israeli officials Tuesday ahead of a trip to the West Bank.
"In the absence of Hamas agreeing to the principles that have been adopted by such a broad range of international actors, I don't see that we or they -- or anyone -- could deal with Hamas," Clinton said in an interview with CNN.
The interview came on the eve of Clinton's visit to the West Bank for meetings with Palestinian Authority leaders.
Clinton said Hamas must do what the Palestine Liberation Organization has done, which is comply with the principles set out by the Quartet -- the United States, Russia, the European Union and the United Nations -- and adopted by the Arab League: Renounce violence, recognize Israel and agree to abide by prior PLO commitments."
Asked by CNN whether that means a public announcement by Hamas, the secretary said, "Well, the PLO did that, and I think no less can be expected of Hamas which is, obviously, not only a terrorist group but is increasingly a client of Iran."
The PLO is an umbrella group that includes the Fatah Party of Palestinian Authority President Mahmoud Abbas. The PLO recognized the state of Israel in 1993.
The interview was conducted a short time after Clinton met with Israeli Prime-Minister-designate Benjamin Netanyahu, who does not support an independent Palestinian state, the bedrock of U.S. policy.
Asked whether the United States could effectively work with Netanyahu anyway, Clinton said, "The two-state solution is the inevitable, inescapable outcome of any effort. It is hard to imagine what other positive outcome could be arrived at."
The United States, she added, will present its view to the Israeli government when it is formed but "the future of the Israeli people is up to the democratically elected government of Israel."
Tuesday, in another sign of thawing relations with Syria, Clinton announced that she is sending two envoys to Damascus. Asked what the ultimate aim is, Clinton said, "We're not jumping to any conclusions, we're not using any adjectives to describe this. It's in the course of diplomatic outreach."
Clinton added that the United States has "a long list of concerns we have about Syrian behavior."
There is worry in Israel over the United States' willingness to engage with Iran, but Clinton said "any steps that the United States takes [with Iran] will be only after we have determined that we have a broad base of understanding amongst a large group of nations who share our concern about Iran."
U.S. President Barack Obama has said the United States is looking for opportunities for "face to face" dialogue with Iran, though he has "deep concerns" about the actions of Iran's leaders.
The United States, Israel and other nations have raised concerns about Iran's nuclear program, which Iran insists is only for peaceful purposes. Iran tested its first nuclear power plant last week using "dummy" fuel rods. Iranian officials said the next test will use enriched uranium, but it's not clear when the test will be held or when the facility will be fully operational.
"Engagement, of whatever nature, is not being done just for the sake of engaging Iran," Clinton said. "What we are looking for is a way to end Iran's nuclear program, end Iran's sponsorship of terrorism, of groups like Hamas and Hezbollah, [and] an end to Iran's actions in a negative or adversarial way with its neighbors. ... There is a lot that Iran is doing which is deeply concerning to people in the region and beyond."
E-mail to a friend

All About Hamas • Hillary Clinton • Israel