(CNN) -- Iran poses a threat to Europe and Russia, both from Tehran's direct efforts and its support of terrorist groups, Secretary of State Hillary Clinton said Wednesday.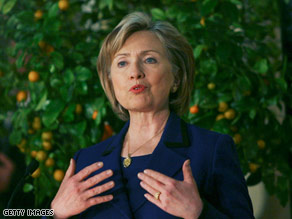 Secretary of State Hillary Clinton speaks during a meeting with Israeli Prime Minister Ehud Olmert.
The Tehran government is intent on interfering in the Middle East, she told reporters aboard her flight to Brussels from the region.
"There is a great deal of concern about Iran from the entire region," she said. "I heard it over and over and over again in Sharm el Sheikh, in Israel, in Ramallah.
"It is clear Iran intends to interfere in the internal affairs of all these people and try to continue their efforts to fund terrorism -- whether it is Hezbollah or Hamas or other proxies."
Clinton repeated President Barack Obama's desire to talk directly with the Iranians, but added that "we want to make sure it's constructive."
She also reiterated what Obama said he had told Russian President Dmitry Medvedev in a "lengthy letter" -- that the proposed U.S. missile defense system in Europe targets Iran and not Russia.

Watch Obama clarify letter »
"We've made the point to Russia and will again, and I think they may be beginning to really believe it," Clinton said. "This is not about Russia. We have real potential threats, and obviously Iran is the name we put to them as a kind of stand-in for the range of threats we foresee."
Clinton said the United States hopes Russia will join the missile defense efforts, adding, "we don't look at Russia and see a missile threat."

Watch how relations with Russia might change »
Obama on Tuesday denied reports that he had told Medvedev the United States would scrap the missile defense plan -- which calls for sites in former Soviet republics -- in exchange for Russian help in persuading Iran to drop its uranium enrichment program, which the West believes is heading for nuclear weapons.

Watch why the U.S. thinks Iran can make a nuke »
But both he and Clinton cited Russia's importance in dealing with the Islamic Republic, which has steadfastly denied it is seeking nuclear weapons.

Watch Iran call concerns about its nuclear program unfounded »
"We think Iran poses a threat to Europe and Russia," Clinton said. "Well, how do we cooperate on that? ... I think this is a very rich area for exploration, and that's what we're going to do."
Poland and the Czech Republic, which have agreed to host U.S. missile defense facilities, understand the threat, she said.

See how missile defense works »
"They recognize there is a real potential future threat," she said, adding that they understand "that missiles not only with a nuclear warhead, but with a conventional warhead or some other chemical or biological weapon could very well be in the hands of a regime like Iran's, which we know will use whatever advantage they have to intimidate as far as they think their voice can reach."
Clinton said the Iranians "are actively pursuing a missile development program, ... and the constant threat of these weapons falling into hands of terrorist groups suggests strongly that Europe, which is closer to Iran, needs to be prepared."

Clinton will join an informal meeting of NATO foreign ministers in Brussels in preparation for the NATO summit in April.
The next day, she is scheduled to meet with Russian Foreign Minister Sergey Lavrov to begin the process of what Vice President Joseph Biden has called "pressing the reset button" in the U.S.-Russian relationship.
E-mail to a friend

All About Iran • Dmitry Medvedev • Barack Obama