From Elise Labott
CNN State Department Producer





WASHINGTON (CNN) -- The United States and Syria found a lot of "common ground" on which to cooperate in the Middle East, the State Department's top Middle East official said after talks in Damascus.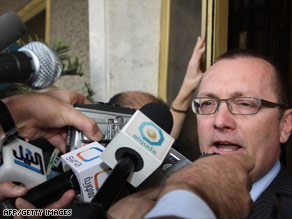 US envoy Jeffrey Feltman briefs reporters after meeting with the Syrian foreign minister in Damascus Saturday.
But envoy Jeffrey Feltman on Saturday warned to "keep expectations in check" as Washington and Damascus re-engage after several years of strained relations.
Secretary of State Hillary Clinton dispatched Feltman, the assistant secretary of state, and Daniel Shapiro, the top Mideast official at the National Security Council, to the Syrian capital to explore Washington's relationship with Damascus.
In the highest-level visit since 2005, when then-Deputy Secretary of State Richard Armitage traveled to the country, Feltman and Shapiro met with Syrian Foreign Minister Walid Moallem and his deputy and Bouthaina Shaaban, an adviser to President Bashar al-Assad, for more than three hours.
"We discussed a broad range of issues, regional, international and bilateral issues and how we can move forward in a variety of ways," Feltman told reporters on a conference call from Damascus. "We have areas where our interests overlap, we have areas where our interests differ."
Don't Miss
Feltman provided few specifics but called the talks "constructive," and said, "We found a lot of common ground."
The visit was arranged over a handshake between Clinton and her Syrian counterpart at a Palestinian donors' conference in Egypt and comes as the Obama administration considers more engagement with Syria.
Clinton and Moallem met briefly over lunch and shared pleasantries in Sharm el Sheikh, Egypt, at a conference on reconstruction of war-battered Gaza.
Clinton requested the two officials visit after Feltman met earlier this month with the Syrian ambassador to the United States, marking a resumption of diplomatic dialogue after nearly five years, which both sides said could spark a thaw between Washington and Damascus.
Both meetings were billed by the State Department as an opportunity for the United States to raise long-standing concerns about Syrian behavior.
The United States wants Syria to stop interfering in Lebanon, to stop supporting terrorist groups such as Hezbollah and Hamas and to control the flow of insurgents crossing its border into Iraq.
But Feltman said his job during the talks was "not to finger point," but to discuss differences and how the two countries can move ahead on areas of mutual interest. He said Iraq was one area where the two sides could explore greater cooperation.
For its part, Syria wants the United States to take a more active role in Israel-Syria peace talks.
Feltman said an Israel-Syria peace track is part of the Obama administration's vision for a comprehensive peace between Israel and its Arab neighbors and promised "there will be a Syrian-Israel track at some point," but that a new Israeli government must be formed before the United States decides its next steps.
The Obama administration's new approach to talking with countries it has problems with seems to have struck a chord with Syria, which has eagerly anticipated engagement with Washington.
Syrian Ambassador to the U.S. Imad Moustapha hailed his meeting earlier this month with Feltman, their first since September, where they discussed a "vision for the relations" between the United States and Syria.
Moustapha told CNN he found a "a new spirit of serious discussion," compared to the Bush administration, which continually provided Syria with a 'to do' list. This time, Moustapha said both sides laid out issues of mutual concern and discussed the prospects for cooperation on those issues.
For instance, he said, instead of asking Syria to kick Hamas out of the country, Feltman asked him, "what can you do to help moderate Hamas?"
"The mindset is in the process of being changed," Moustapha said.
Clinton said this week it was impossible to predict what future relations between the two countries would be and an improvement in ties would depend on Syria's willingness to address United States' concerns.
"We don't engage in discussions for the sake of having a conversation. There has to be a purpose to them, there has to be some perceived benefit," she told reporters in the Middle East on her second overseas trip as secretary of state, after a tour of Asia last month.
Speaking with reporters Saturday, Feltman said, "We will be looking at the choices Syria makes, Syria will be looking at the choices we make in the days to come."
He added the two sides would be "looking for more opportunities" to talk in the coming weeks.
"This is part of a process and we will see how this develops," he said.
A U.S. charge d'affaires is the highest-level American diplomat in Damascus. The United States withdrew its ambassador from Syria four years ago, in protest at the assassination of Lebanon's former Prime Minister Rafik Hariri.
Washington accuses Syria of being behind the killing of the popular statesman in a massive bombing that also left 22 others dead. Syria denies it, but an ongoing U.N. investigation has found indications of Syrian involvement.
Two top-level U.S. congressional delegations met with Syrian President Bashar al-Assad last week as the United States seeks to upgrade relations with Damascus.
The Syrian leader hosted Sen. John Kerry, the Massachusetts Democrat who chairs the Senate Foreign Relations Committee, and Rep. Howard Berman, the California Democrat who leads the House Foreign Affairs Committee. Two other congressional delegations visited Damascus in recent weeks.
E-mail to a friend

All About Jeffrey Feltman • Bashar Assad • Damascus • Hamas