From Mohammed Tawfeeq
CNN





BAGHDAD, Iraq (CNN) -- Iraqi Prime Minister Nuri al-Maliki rallied sheikhs of the nation's tribes on Saturday to participate in Iraq's government.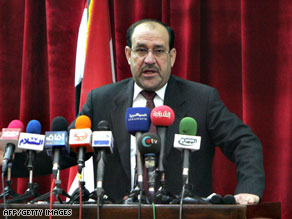 Prime Minister Nuri al-Maliki reaffirmed he would pardon ex-Baathists who haven't been linked to serious crimes.
It was the latest official effort to further reconciliation among Sunnis, Shiites and tribes of different sects and bring some former members of Saddam Hussein's Baath party into the political fold.
Addressing conference members for sheikhs of Arab, Kurdish and Turkmen tribes in Iraq, al-Maliki said as violence subsides, all Iraqis should embrace change.
"The security in Iraq has settled down at level that allowed leaders of tribes to come from everywhere," said al-Maliki.
"It is a reconciliation message for those who boycotted Iraq, because of the (sectarian) strife, they returned home now and we welcome them," he said.
After the invasion, the U.S.-led coalition decided to purge Iraqi institutions of Baathists, most of whom were Sunni Arabs.
Don't Miss
But al-Maliki's Shiite-dominated government has since softened the government's stance toward their participation. The prime minister has said he will pardon Baath party members who have not been linked to any serious crimes, and on Saturday he reaffirmed that commitment.
Al-Maliki delivered a speech to leaders of a Shiite tribe on Friday and discussed similar issues, making reference to de-Baathification.
"We must reconcile with those who committed mistakes, who were obliged in that difficult era to side with the past regime. Today, they are again sons of Iraq," al-Maliki said Friday.
"We will reconcile with them, but on the condition they come back to us and turn the page on that dark part of Iraq's history ... What happened, happened."
Al-Maliki, who is Shiite, has been criticized in the past by minority groups for not fairly representing Iraqi's ethnic groups.
Kurdish lawmaker Mahmoud Othman said he was reticent about al-Maliki's intentions.
"I believe al-Maliki is using the national reconciliation for his elections campaign by the end of 2009," said Othman. "There is not official format or plan for the national reconciliation although we all welcome this step."
"I believe all the Kurds welcome national reconcilation in Iraq, but it should be based on a law or a plan that all political parties agreed," he said.
E-mail to a friend

All About Iraq • Nuri al-Maliki • The Baath Party