(CNN) -- Palestinian Prime Minister Salam Fayyad has submitted his letter of resignation, the prime minister's office told CNN on Saturday.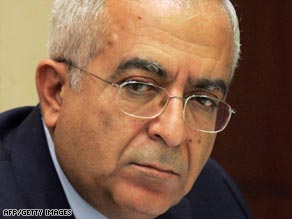 Palestinian Prime Minister Salam Fayyad's resignation may smooth the way for a unity government.
Considered a political independent, Fayyad was appointed by Palestinian President Mahmoud Abbas in June 2007 to be prime minister.
Fayyad's decision may help smooth the way for a Palestinian unity government that would be acceptable to both Hamas and Fatah, the region's two main political parties, as well as the international community.
Officials have argued a neutral government would be crucial to getting aid into Gaza to help with reconstruction and humanitarian relief.
Palestinians unsuccessfully tried their hand at a unity government in the spring of 2007, with the mediation of Saudi Arabia. The experiment ended in June of that year with Hamas taking over Gaza, leaving Fatah in charge in the West Bank.
Fayyad, a well-regarded international economist, was finance minister during the short-lived unity government in 2007.
E-mail to a friend

CNN's Ben Wedeman contributed to this report.
All About Salam Fayyad