JERUSALEM (CNN) -- A potential prisoner exchange deal between Israel and Hamas collapsed Tuesday when the Israeli Cabinet rejected the latest Hamas demands.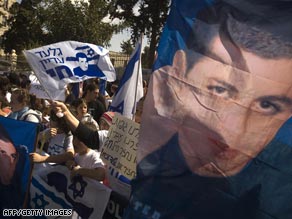 Israelis demonstrate at the prime minister's home holding flags of Gilad Shalit.
Israeli Prime Minister Ehud Olmert said attempts to secure captured soldier Gilad Shalit's release would not end, but he blamed Hamas for reneging on earlier agreements and "hardening" its position with "extreme demands."
"As long as I stand at its head, the government of Israel will not agree to any of the conditions or dictates of the Hamas as they were presented to the negotiating team," Olmert said. "Israel presented the other side with generous, far-reaching and unprecedented offers which were meant to lead to Gilad's release.
"I approved these offers, the practical meaning of which was the release of many hundreds of terrorists, including murderers of Israeli citizens, for the possibility of returning Gilad. These offers were rejected. Others will not be delivered to the Hamas."
Hamas spokesman Ayman Taha said his group holds Israel responsible for the collapse of the prisoner exchange deal.
Hamas has demanded that Israel release hundreds of prisoners. Israel responded that many prisoners Hamas wants released were behind terrorist attacks that killed many Israeli civilians and will not be released.
Israeli Security Agency Director Yuval Diskin and the prime minister's special envoy Ofer Dekel had been taking part in Egyptian-mediated talks in Cairo regarding the release of Gilad Shalit.
Rumors began to spread over the weekend that there could be a breakthrough at the talks, but the Israeli negotiators returned to Jerusalem Tuesday after Hamas officials "hardened" their position over the release of the abducted soldier, according to a statement from Olmert's office earlier in the day.
"I wish to say, on behalf of the state of Israel and its government, we do have red lines. We will not cross them," Olmert said after the Cabinet meeting.
Palestinian militants, including some linked to Hamas, crossed into Israel from Gaza on June 25, 2006, and seized Shalit, who was 19.
Talks on his release have started and stalled many times.
Olmert has been criticized for failing to bring the soldier home.
But at the beginning of a Cabinet meeting Sunday, the outgoing prime minister said, "I would like to point out that over the past three years, we have made unceasing, I would say considerable, wide-ranging and complex efforts on various channels, some of them hidden, most of which were known to two or three people only, in order to protect the effort ... to bring about an agreement that will lead to Gilad Shalit's release."
Incoming Prime Minister Benjamin Netanyahu is expected to take a harder line with Hamas, likely making negotiations for Shalit's release more difficult.
It's been nearly 1,000 days since the soldier was abducted, but his family continues to hold out hope for his release.
Monday felt "like all the 995 days, but our suffering is nothing compared to Gilad's suffering," said his mother, Aviva.
E-mail to a friend

All About Israel • Hamas • Gilad Shalit