BAGHDAD, Iraq (CNN) -- The U.S. Army has filed a criminal complaint in Iraq against 12 people suspected in an ambush south of Baghdad nearly two years ago that left seven U.S. soldiers dead, the military said Sunday.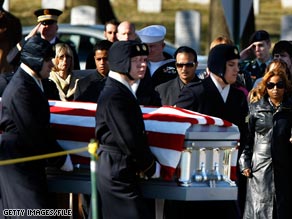 Remains of Staff Sgt. Alex Jimenez and Spc. Byron Fouty were buried in February at Arlington National Cemetery.
The Army says the Islamic State of Iraq, an umbrella insurgent group led by al Qaeda in Iraq, claimed responsibility for the May 12, 2007, attack. The Army did not release details about charges against the 12 suspects, who are in custody.
Some of the soldiers died at the scene of the ambush in Yusifiya, and the attackers kidnapped three others -- Staff Sgt. Alex Jimenez, 25, Spc. Byron Fouty, 19, and Pfc. Joseph Anzack, 20 -- the Army says. Anzack's body was found 11 days later near the Euphrates River, and the bodies of Jimenez and Fouty were located last July about 12.5 miles (20 kilometers) south of the ambush site.
The soldiers were assigned to the 4th Battalion, 31st Infantry Regiment, 2nd Brigade Combat Team, 10th Mountain Division based at Fort Drum, New York.
"After all of our effort to locate [the missing soldiers], I considered it an honor to stand on behalf of their families," said Lt. Col. Richard Ruffcorn, director of intelligence for the division, who personally filed the complaint this month, according to a military statement.
The ambush, which also killed an Iraqi interpreter, happened in a section of Iraq that was known as the Triangle of Death.
A trial date has yet to be set, but military officials expected it to start in the next several months.
Iraqi officials did not comment on the complaint Sunday, but U.S. officials said the government has been cooperative in moving the case forward.
A new U.S.-Iraq security agreement, which was negotiated last year and began January 1, required all coalition detainees to be released or transferred to Iraqis.
"However, we are allowed to file formal complaints with the Iraqi court system to start the process of prosecution," said Lt. Col. Mike Ryan, a staff judge advocate for the 10th Mountain Division.
Under the new security agreement, all U.S. forces are expected to withdraw from Iraq by the end of 2011.
E-mail to a friend