JERUSALEM (CNN) -- Incoming Israeli Prime Minister Benjamin Netanyahu warned Tuesday that "extremist Islam is trying to bring us down through terrorism from north and south" as his Cabinet prepared to take office.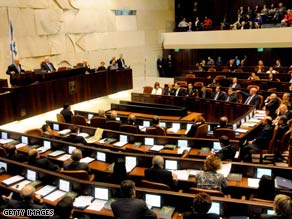 Benjamin Netanyahu, top left, presents his government in the Israeli parliament Tuesday in Jerusalem.
Netanyahu and his Cabinet were sworn in later in the day, after the Israeli parliament confirmed his new government in a 69-45 vote.
The prime minister offered an olive branch of sorts to Palestinians but did not hold out the promise of their own state.
"In order for there to be peace, our Palestinian allies and partners also have to fight terrorism," he said. "They must bring up their children in the spirit of tolerance and peace. In the last two decades, six heads of government in Israel have failed to achieve a peace settlement, but they were not at fault. I say to the leaders of the Palestinian Authority: If you really want peace, then peace can be achieved.
"We don't want to control another people," Netanyahu said of Israel's military control of Palestinian territory, which dates to the 1967 Arab-Israeli war. "We don't want to control the Palestinians. In a final a settlement, the Palestinians will have all the rights to rule themselves except those which threaten Israel's ability to protect itself."
A senior Palestinian official immediately responded that Israel must end its "occupation" of Palestinian land if it wants peace.
"I hope that Mr. Netanyahu will openly accept the two-state solution, negotiation on all core issues without exception, and stop the settlement activity, including natural growth, so we can have a partner in peace-making," said Saeb Erekat, chief negotiator for the Palestinian Authority.
Netanyahu described Israel's neighbors as "moderate," but, like Israel, threatened by radical Islam.
"Israel strives to achieve full peace with the Arab and Islamic world, and this is entirely the case today as the Arab and Islamic world -- which is moderate -- faces extremist Islam," he said.
Netanyahu, leader of the center-right Likud Party, will lead a mostly right-leaning coalition that includes the hardline Yisrael Beytenu Party and the center-left Labor Party.
His Cabinet is the largest in Israeli history, with 30 ministers and deputy ministers.
Opposition leader Tzipi Livni ridiculed the size of the government.
"The Israeli public is a skinny person who today has had the swollen, overweight government placed on its head. It has ministers for nothing with all sorts of ridiculous titles," said Livni, the Kadima Party leader and former foreign minister who refused to join the Netanyahu coalition.
E-mail to a friend

CNN's Kevin Flower and Shira Medding contributed to this report.
All About Benjamin Netanyahu • Palestinian Politics • Israel