From Shirzad Bozorgmehr
For CNN





TEHRAN, Iran (CNN) -- Iran's president will deliver some "good news" this week about the country's first nuclear power plant, a semi-official news agency reported Monday.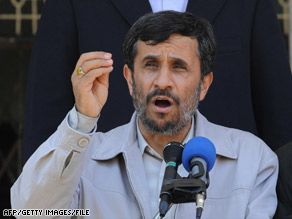 Iranian President Mahmoud Ahmadinejad reportedly will comment on the country's nuclear program this week.
The Mehr News Agency said President Mahmoud Ahmadinejad will comment on progress at the Bushehr nuclear power plant on a visit to the city of Natanz on Thursday. The news agency quoted Parviz Fattah, the Iranian minister of power.
Fattah said he hopes the nuclear power plant will produce electricity for use as early as this summer, the news agency said.
Fattah added that Iranian scientists had made great achievements in the nuclear field and, on that basis, Ahmadinejad will have good news regarding the nation's nuclear program on Thursday, Mehr reported.
Iran tested the Bushehr nuclear plant in February. Those tests used dummy fuel rods that were loaded with lead in place of enriched uranium to simulate nuclear fuel, according to Iranian officials.
Officials said then that the next test will use enriched uranium, but it was not clear when the tests would be held or when the plant would be fully operational.
The United States, several European nations and Israel suspect that Tehran has been trying to acquire the capacity to build nuclear weapons, but Iran says its nuclear program is solely for peaceful purposes.
E-mail to a friend

All About Iran • Nuclear Energy • Mahmoud Ahmadinejad