(CNN) -- Iranian authorities have charged detained American journalist Roxana Saberi with espionage, Iran's Press TV reported.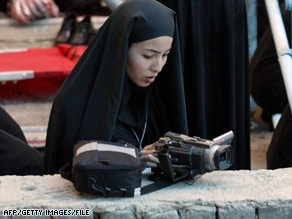 Journalist Roxana Saberi, shown working in Iran in 2004, was detained more than two months ago, her father says.
Iran's deputy prosecutor for security issues, Hassan Haddad, said Saberi had confessed to having engaged in espionage activities.
"She conducted spying operations in the country by passing herself as a journalist. She has accepted all charges and we have documented the evidence in her legal case papers," Haddad said, according to Press TV.
Saberi's father, Reza Saberi, told CNN last month that his daughter called him on February 10 and said she'd been arrested 10 days earlier.

Watch what Iran says about Saberi's activities »
Amid reports that Saberi had been charged, Secretary of State Hillary Clinton said the United States was asking the Swiss government -- which represents U.S. interests in Iran -- to obtain the most accurate, up-to-date information about the 31-year-old journalist.
"I and the rest of the department will continue to follow this very closely and wish for her speedy release and return to her family," Clinton said at the State Department.
Don't Miss
Haddad said Saberi's case will be sent to the revolutionary court. Although she holds Iranian and American passports, the deputy prosecutor said her U.S. citizenship would not affect legal proceedings, Press TV reported.
"She entered the country as an Iranian citizen and holds Iranian residency, passport and national identity card. Even if she has another citizenship, it will not affect the way we will proceed with her case," he said.
Reza Saberi told CNN that his daughter believed she was initially detained for buying a bottle of wine. "She said she bought a bottle of wine last year and kept it to take to a friend for her birthday," he said. "She said authorities told her the person who sold her the wine turned her in." Alcohol is banned in Iran.
Wednesday's Press TV report, posted on its Web site, reported that Saberi was arrested in January for working illegally as a journalist after her press card was revoked in 2006.
Iran's Foreign Ministry spokesman Hassan Qashqavi also told CNN last month that Saberi had been working in Iran without a permit.
"Her press card was revoked," said Qashqavi. "Without a permit, she should not have been engaged in news and information-gathering in Iran."

Qashqavi did not provide details as to why her press card was revoked.
Her father said Saberi has freelanced for National Public Radio and other news organizations and was writing a book about Iranian culture. She was almost finished, he said, and planned to return to the United States this month.
E-mail to a friend

CNN's Charley Keyes contributed to this report.
All About Espionage and Intelligence • Iran • Iranian Ministry of Foreign Affairs • Hillary Clinton