From Elise Labott
CNN State Department Producer





WASHINGTON (CNN) -- The State Department voiced concern Thursday about the secret trial in Iran of an American journalist on espionage charges, calling it "baseless" and saying her release could aid U.S.-Iranian relations.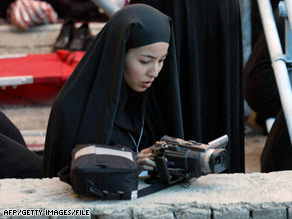 Journalist Roxana Saberi, shown working in Iran in 2004, is accused of spying in the country.
Acting department spokesman Robert Wood confirmed Iranian reports that Roxana Saberi went on trial in Iran earlier this week on charges of spying. According to the reports, Iranian authorities said she has confessed.
"We've been very concerned about the transparency of this judicial process," Wood said. "And we call on the Iranians to provide as much information as they can to us about Roxana Saberi."
Saberi's trial began Monday and her lawyer has completed his defense, a spokesman for the judiciary, Ali Reza Jamshidi, told reporters. According to the semiofficial Mehr News Agency, Jamshidi said the verdict should be delivered within a few weeks.
Senior State Department officials said the trial was conducted in secret. Switzerland, which represents U.S. interests in Iran in the absence of formal ties between the two countries, was not allowed to send a representative and it was unclear whether Saberi was allowed to have a lawyer present.
Saberi's lawyer, Abdolsamad Khorramshahi, could not be reached for comment.
Authorities said Saberi spied inside the country by posing as a journalist.
Saberi's father, Reza Saberi, said in March that his daughter called him on February 10 and said she'd been arrested 10 days earlier.
He said his daughter initially thought she was detained for buying wine.
"She said she bought a bottle of wine last year and kept it to take to a friend for her birthday," he said. "She said authorities told her the person who sold her the wine turned her in." Alcohol is banned in Iran.
But a report last week by Iran's Press TV said Saberi was arrested in January for working illegally as a journalist after her press card was revoked in 2006.
Iran's Foreign Ministry spokesman, Hassan Qashqavi, also said in March that Saberi had been working in Iran without a permit.
"Her press card was revoked," Qashqavi said. "Without a permit, she should not have been engaged in news and information gathering in Iran."
Qashqavi did not provide details as to why her press card had been revoked.
Saberi's father said she has freelanced for National Public Radio and other news organizations and was writing a book about Iranian culture. She was almost finished, he said, and planned to return to the United States this month.
Wood said the United States has been in regular contact with Swiss authorities, but couldn't say more about the case without express permission from Saberi or her family.
Saberi's case comes as the United States weighs greater engagement with Iran. Earlier this month, at a conference on Afghanistan in the Netherlands, Secretary of State Hillary Clinton sent a letter to the Iranian delegation asking for any information on and the safe release of Saberi and Esha Momeni, an Iranian-American student arrested in Iran in October, as well as Robert Levinson, a former FBI agent who went missing in Iran in March 2007.
Calling such detentions of Americans "unhelpful," to U.S.-Iranian relations, Wood said, "We think responding in a positive way to the Saberi case would be helpful, in terms of winning good will on the part of the United States and the American people."
He added, "We don't want to see more of these cases."
E-mail to a friend

All About Iran • National Public Radio Inc.