OSWIECIM, Poland (CNN) -- Israel's vice prime minister compared Iran to Nazi Germany on Tuesday at the site of one of World War II's most notorious death camps.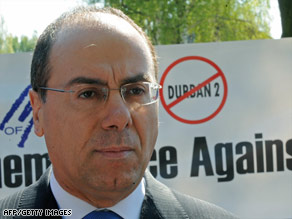 Israel's vice prime minister Silvan Shalom said Tuesday "Israel can never live with" a nuclear Iran.
The Islamic republic's alleged efforts to acquire nuclear weapons are "not far away, not at all, to what Hitler did to the Jewish people just 65 years ago," Silvan Shalom said at the former Auschwitz camp.
"Israel can never live with the idea that Iran will hold a nuclear bomb," Shalom added, reiterating long-standing Israeli policy.
He was speaking as Israel observes its Holocaust memorial day, remembering the roughly 6 million Jews who were killed by the Nazi regime during World War II simply for being Jewish.
A day earlier, Iran's president caused an uproar at a United Nations anti-racism conference by accusing Israel of having a racist government and committing genocide.
Mahmoud Ahmadinejad said the West made "an entire nation homeless under the pretext of Jewish suffering ... in order to establish a totally racist government in occupied Palestine."
Dozens of European diplomats walked out of the speech, but a majority of the conference delegates stayed, and there was some cheering.
Iran denies its nuclear program is aimed at building bombs, but Israel and the United States do not believe it.
E-mail to a friend

CNN's Diana Magnay contributed to this report.
All About The Holocaust • Israel