BAGHDAD, Iraq (CNN) -- Iraqi Prime Minister Nuri al-Maliki is accusing U.S. troops of violating the security agreement between the two countries after a raid in Wasit province Sunday that left two people dead, Iraqi State TV reported.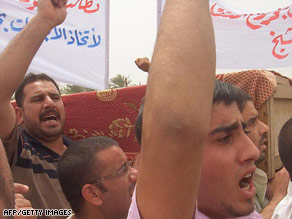 Iraqis carry the coffin of a woman killed in a controversial raid Sunday by U.S. troops in Kut, Iraq.
U.S. troops raided a house in the city of Kut and arrested six suspected members of so-called "special groups" -- groups that are funded, armed and trained by Iran, according to the U.S. military.
During the operation, which the military said was "fully coordinated and approved by the Iraqi government," a man and a woman were killed by U.S. troops, the military said.
Al-Maliki's accusation that the United States violated the security pact is the first time the Iraqi government has claimed a breach in the deal that governs the presence of U.S. troops in Iraq. It was reached last November and implemented in January.
Under the agreement, the U.S. military cannot carry out raids without Iraqi permission and warrants. And Iraq has primary jurisdiction over members of the U.S. military who commit "grave premeditated felonies" outside of certain geographical boundaries and when they are off duty.
Al-Maliki has asked Gen. Raymond Odierno, the top U.S. commander in Iraq, to release the suspects detained in the raid, and to hand over "those who committed the crime" -- or U.S. troops -- to the Iraqi judiciary, state television reported.
The U.S. military statement said when troops approached the residence, "an individual with a weapon came out of the home. Forces assessed him to be hostile, and they engaged the man, killing him," the U.S. military statement said.
A woman who "moved into the line of fire" was also killed in the shooting, the U.S. military said.
An Interior Ministry official told CNN the raid was on the home of a tribal leader, and said U.S. forces killed the leader's wife and brother and detained a number of family members.
Speaking on Iraqi State TV, the deputy governor of Wasit province called the killings "cold-blooded murder."
The U.S. military said there was a warrant issued for the arrest of the targeted individual -- "a network financier, who is also responsible for smuggling weapons into the country to support JAM Special Groups and Promise Day Brigade," a U.S. military statement said.
Iraqi State TV reported that Iraq's defense ministry ordered the arrest of two Iraqi commanders in Kut who apparently allowed the U.S. military to carry out the raid.
E-mail to a friend

All About Nuri al-Maliki • Raymond Odierno • Iraqi Interior Ministry • Iraq