BAGHDAD, Iraq (CNN) -- A suicide bomb was detonated near a coffee shop in the northern Iraqi city of Mosul on Friday, killing at least six people, an Interior Ministry official said.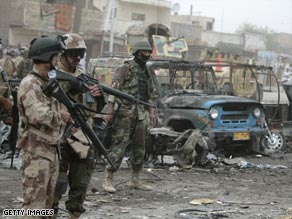 Dozens of Iraqis were killed Wednesday after a series of car bombings in Baghdad.
The U.S. military has said Mosul is the last urban stronghold of al Qaeda in Iraq.
The Iraqi government and the U.S. military are assessing the situation in Mosul ahead of a June 30 deadline for combat troops to withdraw from population centers.
The military has said combat troops could stay in Mosul beyond that deadline.
Friday's attack was the latest in a particularly bloody week for Iraq.
A string of six car bombings in Baghdad killed 54 people on Wednesday.
Also, three U.S. troops were killed in Iraq Thursday, making April the most deadly month for U.S. service members this year. In April, 18 U.S. troops died in Iraq, according to a CNN count of reported troop fatalities. Sixteen of those troops died in combat.
April was also the deadliest month this year for Iraqi civilians. At least 290 Iraqi civilians died in April, compared with 185 in March, according to an Interior Ministry official. Nearly 80 Iranian pilgrims were killed in suicide bombings last week.
Despite all that, a U.S. State Department terror report released Thursday said there was a decrease in attacks during the first quarter of 2009.
U.S. President Barack Obama said the recent uptick in violence in Iraq won't alter his plan for a phased military withdrawal.
"Although you've seen some spectacular bombings in Iraq that are a legitimate cause of concern, civilian deaths, incidents of bombings, et cetera, remain very low relative to what was going on last year," Obama said during Wednesday's prime-time news conference on his 100th day in office.
"And so you haven't seen the kinds of huge spikes that you were seeing for a time. The political system is holding and functioning in Iraq."
E-mail to a friend

CNN's Jomana Karadsheh contributed to this report.