BAGHDAD, Iraq (CNN) -- Iraq's government said Sunday it won't extend a June deadline for U.S. combat troops to leave Iraqi cities despite concerns about ongoing attacks in cities like Mosul.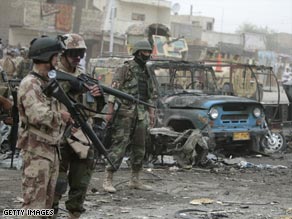 Dozens of Iraqis were killed last week in a series of car bombings in Baghdad.
Baghdad still expects its security forces to take responsibility for Iraqi cities after U.S. troops leave, and does not plan to request an extension, government spokesman Ali al-Dabbagh said.
"The Iraqi government is committed to the agreed-upon withdrawal dates, whether it's the June 30 withdrawal of the U.S. troops from all cities and towns or the complete withdrawal from Iraq by the end of 2011," al-Dabbagh said in a written statement.
The announcement comes after a spate of suicide attacks in Baghdad and nearby Diyala province and recent attacks in the northern city of Mosul that killed six Iraqis and two U.S. troops. The U.S. military said Mosul is the last urban stronghold of al Qaeda in Iraq, and the U.S. commander in Baghdad said American and Iraqi officials were discussing the possibility of leaving some U.S. troops there beyond the deadline.
"The bottom line is we're doing joint assessments with the government of Iraq in all of the areas," Gen. Raymond Odierno said in April. "And we believe, if you ask me today, the one area I'm still not sure about is Mosul."
Odierno and other officers have stressed that the Iraqis would have the final say.
The increased violence has raised concerns that the political and military progress that helped quell Iraq's savage sectarian warfare could unravel when the Americans leave. But Defense Secretary Robert Gates told CNN he believed Iraqi political leaders could keep things peaceful.
Don't Miss
The bombings are aimed at restoking the conflict between Sunni Muslim jihadists and Iraq's Shiite majority, but Gates said Prime Minister Nuri al-Maliki's government has been reaching out to Sunnis "as potential political allies," Gates said.
"I'm reasonably optimistic that the gains in terms of solving problems between the sectarian elements will continue to be done politically rather than violently, despite all of al Qaeda's best efforts," Gates told CNN's "Fareed Zakaria GPS."
Maj. Gen. David Perkins, the U.S. military's top spokesman in Iraq, told reporters Friday that al Qaeda attacks are concentrated mainly in Mosul and Baghdad.
"What we have always said with regards to al Qaeda is that, strategically, for AQI [al Qaeda in Iraq] to win, they have to win Baghdad, and for them to survive, they have to hold on to Mosul. And you can see that by how they are conducting their attacks," he said.
"Attacks have gone down in Mosul, but there is still a lot of activity. This is probably the main area we are looking at that could possibly result in U.S. forces being there," Perkins said.
April 23 was the deadliest day this year in Iraq, with suicide bombers killing at least 55 people in Diyala province, including Shiite pilgrims from Iran, and at least 28 people in Baghdad.
E-mail to a friend

CNN's Jomana Karadsheh contributed to this report.