By John L. Allen Jr.
CNN Senior Vatican Analyst






Editor's note: John L. Allen Jr. is the senior correspondent for the National Catholic Reporter and senior Vatican analyst for CNN.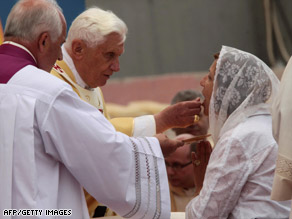 Pope Benedict XVI gives Communion to a Jordanian woman at a Mass in Amman, Jordan, on Sunday.
AMMAN, Jordan (CNN) -- Given the delicate balancing act with Muslims and Jews facing Pope Benedict XVI in the Middle East, it can be easy to forget there's also a third faith with antique roots in the region wanting some attention from the pontiff: Christianity.
After two days devoted largely to outreach to Muslims, Benedict finally focused on his own Christian flock on Sunday, celebrating Mass in a soccer stadium in downtown Amman. The event drew Christians not only from Jordan, but also from Iraq, Lebanon, Syria, Egypt and other countries in the neighborhood.
The Christians of the Middle East certainly could use the shot in the arm. At least demographically, Christianity today stands on the brink of extinction in the land where Jesus Christ lived, and where the faith first took hold.
In 1948, Christians represented 20 percent of the population in what is now Israel and the Palestinian territories; today they're less than 2 percent, some 150,000 believers amid seven million Israelis and four million Palestinians. The pattern holds all across the Middle East, with Christians fleeing traditional strongholds such as Lebanon, Iraq and Egypt in massive numbers. As recently as 1975, estimates were that 25 million Arab Christians called the Middle East home; today the best guess is 12 million.
At his Mass on Sunday, Benedict called upon the Christians of the region to "persevere in faith, hope and love," despite the "difficulties and uncertainties which affect all the people of the Middle East." He implored them to "maintain the church's presence in the changing social fabric of these ancient lands."
According to many observers, that's likely to be a tall order. "Right now, chances are better than ever that Christians will leave and never come back," said Rateb Rabie, a Jordanian Catholic immigrant to the United States who heads the Holy Land Christian Ecumenical Foundation, a group devoted to supporting Christians in the region.

Watch Jordanian Christians talk about pope's visit »
Where have all the Christians gone? Many live in emigre communities in the United States, Canada, Latin America and Australia. Today there are more Christians from Ramallah, the West Bank headquarters of the Palestinian National Authority, living in Dearborn, Michigan, than in Ramallah itself. There are more Palestinian Christians in Chile than in the Palestinian territories.
Don't Miss
Explaining Christian emigration, like everything else in the Middle East, quickly gets swept up into politics. Israelis sometimes blame the inability (or unwillingness) of the Palestinian Authority to control Islamic extremism, pointing out that a growing number of local Christians have requested Israeli citizenship. Yet most of the Christians themselves, the overwhelming majority of whom are Arab, fault what they see as despair bred by Israeli "occupation." Their problems have little to do with being Christian, they say, and everything to do with being Palestinian.
Less polemically, Christianity is also the victim of its own success. For generations, church-run schools in the Holy Land have turned out Christians who are well-educated, prosperous, and fluent in Western languages. A 2005 study in Bethlehem, where the Christian percentage of the population has fallen from 80 to 20 percent, concluded that Christians' middle-class status and higher education were the most important contributors to their emigration.
Whatever the explanation, it's obviously a matter of deep spiritual concern for the pope that Christians might vanish from the land of Christ. There's also a political dimension, since Arab Christians have traditionally promoted a pluralistic and secular vision of society, which in the Holy Land means standing between resurgent Islamic fundamentalism and ultra-nationalist strains in Judaism.
Some observers believe that if Christianity disappears, the prospects for peace become that much dimmer. Though a minority since the rise of Islam in the seventh century, Arab Christians have long played a leading role in the region's social, political and economic affairs. For example, Syrian Michel Aflaq, the intellectual founder of the Ba'ath Party, was born in Damascus in 1910 to an Orthodox Christian family. Literary theorist and Palestinian activist Edward Said likewise has Christian roots.
Though Benedict did not lay out a precise strategy for survival today, he seemed to suggest that the key is for Christianity not to collapse in on itself, but to actively engage the region's social and political challenges.
"In the Middle East, marked by tragic suffering, by years of violence and unresolved tensions, Christians are called to offer their contribution, inspired by the example of Jesus, of reconciliation and peace through forgiveness and generosity," the pope said.

It remains to be seen if that, by itself, will be enough to save Christianity in what amounts to its birthplace. One ray of hope: So far, Benedict XVI has blessed the cornerstones for a new Catholic university and two new Catholic parishes in Jordan, small signs of determination that Christianity will have a future in the region.
The opinions expressed in this commentary are solely those of John L. Allen Jr.
E-mail to a friend

All About Pope Benedict XVI • Amman (Jordan) • Christianity • Middle East Politics