By Joe Sterling
CNN





(CNN) -- Seven Baha'i leaders jailed in Iran face a possible new accusation that could lead to the death penalty, the religious group said Thursday, and a major human rights group has called for their release.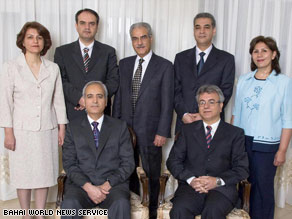 Seven imprisoned Baha'i leaders may face new charges in Iran, according to human rights groups.
The seven -- six arrested on May 14, 2008, and another arrested in March 2008 -- have been charged with espionage for Israel, propaganda against Iran, and "insulting religious sanctities," an Iranian deputy prosecutor said in February.
Now Baha'i officials say families of those imprisoned have been told that the seven may face the charge of "spreading of corruption on Earth," a count that the group says "carries the threat of death" under Iran's penal code.
Kit Bigelow, director of external affairs of the National Assembly of the Baha'is of the United States, told CNN the seven have not had a trial or access to their lawyer, Nobel Peace Prize laureate Shirin Ebadi. She said that while they have been told of their charges, they haven't gone to court to hear the charges.
"They have been denied due process," Bigelow told CNN. "Technically, they have been in jail for a year without having been formally charged. The charges have been made in the public domain, but not in the legal domain."
Human Rights Watch, the world rights monitoring group, used the anniversary of the arrests of six of the Baha'is to call for their release or a prompt trial, with "fair and open proceedings."
"These Baha'i leaders have been languishing in prison for a year now, with no access to their lawyers and no glimmer of a trial date," said Joe Stork, deputy Middle East director at Human Rights Watch, in a statement on Thursday. "These reported new charges only add to the fears for their lives under a government that systematically discriminates against Baha'is."
Other governments and groups, including the United States, have criticized the accusations and the jailing. In February, the U.S. State Department issued a condemnation of the accusations, saying they "are part of the ongoing persecution" of Iranian Baha'is.
The Baha'i community -- which numbers approximately 300,000 -- has been persecuted in the Islamic Republic of Iran, where they have been regarded as apostates and heretics. A recent survey by the U.S. Commission on International Religious Freedom, a federal agency, documented the repression of the group in Iran.
More than 200 Baha'i leaders have been executed there since 1979, when the Islamic republic was formed, and more than 10,000 "have been dismissed from government and university jobs" and recently have endured "increasingly harsh treatment," the USCIRF report said.
USCIRF said Baha'is may not establish places of worship, schools, or any independent religious associations in Iran and "are barred from the military and denied government jobs and pensions as well as the right to inherit property, and their marriages and divorces are also not recognized." Baha'i holy sites have been desecrated and destroyed, the agency said.
In a news release this week, the Baha'is say the new accusation of "being spreaders of corruption" had been leveled against the Baha'is executed after the Islamic republic came into being.
"That it may now be resorted to in this case is a further demonstration that the authorities have no basis for any allegation against these seven individuals, other than blatant religious persecution," the Baha'i movement said.
An Iranian official told CNN in February the Baha'i leaders are accused of masterminding "the secret activities of Baha'ism which is banned by law."
"They are accused of espionage and unlawful connection and getting money from outside and other activities," said Mohammad-Javad Larijani, secretary general of Iran's Human Rights Committee.
"I think unfortunately there are people, not all of them, there are people under the Baha'i names, they are engaged in a lot of activity against Iran and used by the White House especially and the Zionist regime," Larijani said. "We are very, very sensitive on the issue of espionage and using the civil structure in Iran for other external services."
E-mail to a friend

All About Iran • Baha'i • Human Rights Watch