(CNN) -- Journalist Roxana Saberi landed in Vienna on Friday after being freed from an Iranian prison, according to the U.S. Embassy in Austria.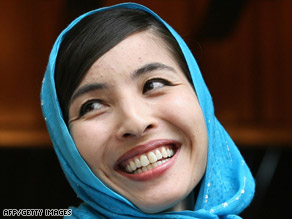 Roxana Saberi smiles outside her home in Tehran, Iran, on Tuesday.
Saberi made a brief statement to reporters, thanking all the people who supported and lobbied for her freedom.
"I came to Vienna because it is a calm and relaxing place, and also the Austrian ambassador in Tehran and his family were very helpful to me and my family during this period," Saberi said. "So I want to thank him again and his family and all the other people in the world who helped us during this time.
"I heard that certain people, many people, went through a lot of troubles because of me, and someone went on a hunger strike. Both journalists and nonjournalists around the world, I've been hearing, supported me very much, and it was very moving for me to hear this," Saberi said.
It is not clear whether she was headed immediately to the United States. But her father, Reza Saberi, had said earlier that she and her parents would return as soon as possible.
Saberi, an Iranian-American journalist, had lived in Iran since 2003. Her parents flew there from their home in North Dakota to push for their daughter's release.
She received international support after she was jailed in Iran in January, becoming a symbol of the fight for journalists' freedoms worldwide.
Saberi, 32, was convicted last month on espionage charges in a one-day trial that was closed to the public.
She was sentenced to eight years in prison after being accused of spying for the United States.
A judge changed Saberi's sentence during an appeal hearing Sunday. The court agreed with her lawyers that, because Iran is not at war with the United States, Saberi cannot be punished for cooperating with agents of a hostile nation, according to her spokesman, Abdolsamad Khorramshahi.
Her sentence was changed to a two-year jail term, suspended for five years, Iran's state-run news agency IRNA reported.
In her statement to reporters Friday, Saberi alluded to inaccurate information being released about her ordeal.
"There have been various statements made about my case over the past few days," she said. "And I think that if somebody is supposed to speak about my case from now on, nobody knows about it as well as I do. I will talk about it more in the future, I hope. But I am not prepared at this time."
Published reports have quoted Saberi's lawyer, Saleh Nikbakht, as saying that Saberi had obtained a classified document. Sources close to Saberi confirmed Nikbakht's remarks.
The document, which dealt with the U.S. war in Iraq, was from the Expediency Council, where Saberi had worked as a translator, the sources said. The council is an influential body that advises Supreme Leader Ayatollah Khamenei.
Nikbakht also said that Saberi had a document from the Strategic Studies of the Office of the President of Iran, but that he was able to convince the judge that this one should not be considered classified, sources close to Saberi said.
Iranian sources had previously told CNN's Christiane Amanpour that Saberi was arrested because she was allegedly found with sensitive documents and allegedly had been in contact with Iranians who were linked to "foreign intelligence" agencies. Sources said at the time that her case would depend on whether she was judged to have been engaged in anti-government activity, or unintentionally in possession of sensitive Iranian government documents.
Saberi herself has not commented on the reports about these documents. But she has denied any wrongdoing or espionage.
E-mail to a friend

All About Roxana Saberi • Iran