JERUSALEM (CNN) -- In what could be a goodwill gesture to the Obama administration, Israeli security forces removed an illegal settler outpost Thursday in the West Bank.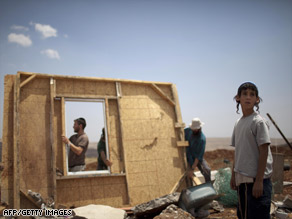 Israeli settlers look at the remains of an illegal outpost on the West Bank, taken down by security forces on Thursday.
A spokesman for the Israeli military said a combination of police and military personnel carried out the action, removing several metal containers from a minor hilltop encampment at Maoz Esther.
The small outpost was erected in 2005 by residents of a nearby settlement.
The move comes just three days after Israeli Prime Minister Benjamin Netanyahu visited the United States and was told by President Obama and Washington lawmakers that Israel must stop settlement construction and remove illegal West Bank outposts.
The Israeli daily newspaper Haaretz reported in its Thursday edition that government sources indicated the move was meant as an overture to the U.S. administration and the Palestinian Authority and that it "is part of the 'price' Netanyahu paid Obama in exchange for the latter's statements about Iran's nuclearization."
Mark Regev, an Israeli government spokesman, said "the issue of settlements and illegal outposts were discussed" between Netanyahu and Obama, but that the topic was "first and foremost a rule of law issue" and that the government was now engaged in a process to bring about the removal of illegal outposts peacefully.
Don't Miss
Under the 2002 Roadmap for Peace plan brokered by the United States, the European Union, the United Nations, and Russia, Israel agreed to "dismantle settlement outposts erected since 2001" and "freeze all settlement activity."
"Israel understands full well what its commitments are but reminds everyone that different sides have obligations as well," Regev said. "The Palestinians have obligations and the Arab states too." His remark is a reference to the Roadmap requirement that Palestinians end "terror and violence" and Arab states cut off funding for such activity.
"The way forward is to have all sides meet their obligations," Regev said.
E-mail to a friend

All About Israel • Palestinian Politics • Barack Obama • Middle East Politics