From Jomana Karadsheh
CNN





CAMP VICTORY, Iraq -- Stephen Colbert left no doubt about his solidarity with American troops when he taped the first of four Comedy Central shows he'll produce in Iraq this week.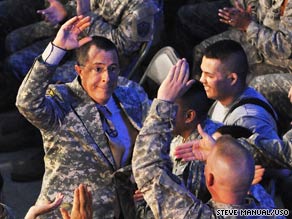 Stephen Colbert high-fives a serviceman after submitting to a military-style haircut in Iraq on Sunday.
Colbert, wearing a business suit made of the same camouflaged material used for soldiers' desert uniforms, submitted to a regulation military haircut as hundreds of U.S. troops cheered wildly Sunday.
The comedian, who satirizes conservative TV pundits on his "Colbert Report," began his "Operation Iraqi Stephen: Going Commando" USO tour Sunday in the Baghdad headquarters of the U.S.-led military coalition in Iraq.
"It must be nice in Iraq, because some of you keep coming back again and again," Colbert said, joking about the multiple tours many troops have had in Iraq since the 2003 invasion. Some troops had accumulated enough frequent flyer miles to earn them a free ticket to Afghanistan, he joked.
Colbert told his guest, Gen. Ray Odierno, he felt "a little intimidated" by him, not because he was he top U.S. commander in Iraq, but because it felt like he was "interviewing Shrek." Odierno is an imposing bald figure at 6-feet, 5-inches tall.
Odierno said the military is "not yet ready to declare victory" in Iraq and that there was a little more work to be done for long-term stability.
Don't Miss
"I, Stephen Colbert, by the power invested in me by basic cable, officially declare we won the Iraq war," Colbert said, as his audience broke out into applause.
The interview was interrupted when President Obama appeared on large television screens. The commander-in-chief told his general it was time to "cut that man's hair."
With white electric hair clippers in his hand, Odierno stood up and began shaving Colbert's trademark thick dark hair. The troops stood and cheered as a female member of Colbert's staff finished the job.
After the haircut, Colbert ran through the audience, high-fiving the troops as he showed off his new military look.
One Army major said that "shaving of the hair is an amazing show of support" that was "very touching."
Former Republican presidential nominee Sen. John McCain also made a pre-taped appearance on the show, jokingly reminding the troops to "take time to clean your muskets."
Lt. Col. Debra Shoemaker, a native of Colbert's hometown of Charleston, South Carolina, said the show was a "nice break" from the monotony of service in Iraq.
USO Senior Vice President John Hanson said the shows are an important diversion for the troops.
Colbert's USO tour is unusual because it's the first time a show taped in a combat zone has been edited and aired so quickly. The Sunday show will be televised on the Comedy Central network Monday night.
E-mail to a friend

All About Stephen Colbert • Iraq • Comedy Central