BAGHDAD, Iraq (CNN) -- One of five U.S. contractors who had been detained in Baghdad has been released and others will be freed soon, the wife of the released man said.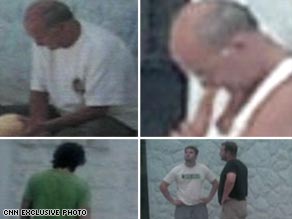 In a CNN exclusive, video shows U.S. contractors taken into custody by Iraqi authorities.
Earlier Wednesday an Iraqi judge decided that charges against the contractors were not warranted. The reason for the contractors' detention had been unclear.
The five were initially told they were being held in connection with the death last month of another contractor, James Kitterman, said the source close to the five.
But on Monday the men were told they were being held on suspicion of having unregistered weapons, although they were asked about their activities around the time Kitterman was killed.
However, Iraqi government officials told CNN Monday the five were detained as suspects in connection with Kitterman's slaying.
The Iraqi security source said the contractors will either be released Wednesday or Thursday. They are waiting to finish the logistical procedures at the police station where they had been held.
None of the five has been charged with a crime.
Kitterman was found bound, blindfolded and fatally stabbed in a car in Baghdad's Green Zone on May 22. The 60-year-old from Houston, Texas, owned a construction company that operated in Iraq.
The Green Zone, where Kitterman's body was discovered, is the high-security area in central Baghdad that contains the U.S. Embassy and key Iraqi government buildings.
Access to the area, formally known as the International Zone, is tightly controlled.
E-mail to a friend

All About Baghdad • Iraq • Human Rights Watch