(CNN) -- Syria, a country on the outs with the United States during the Bush administration, was to be U.S. envoy George Mitchell's latest stop in his trip to jump-start the idle Middle East peace process.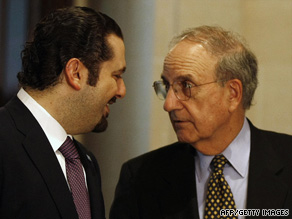 U.S. envoy George Mitchell, right, visited with Lebanese officials, including parliamentary majority leader Saad Hariri.
A former Maine senator who is President Obama's special envoy to the region, Mitchell is expected to meet with Syrian President Bashar Assad and other officials in a trip beginning Friday and ending Saturday.
The United States has not had an ambassador in Damascus since 2005. But Mitchell's visit is part of a series of actions that could pave the way for dramatically improved relations between the two countries. The Obama administration also believes engaging the Syrian regime will weaken Syria's strategic alliance with Iran.
"You know that this administration is committed to a broad-based, comprehensive peace dealing with all the different players in the region," State Department spokesman Ian Kelly told reporters at a State Department daily press conference earlier this week.
"And we decided this was an appropriate time for Sen. Mitchell to go to Syria. And ... this is a very high priority for this administration, and we're going to pursue this vigorously in the coming months."
Kelly said the stop is in many ways a follow-up to Obama's speech last week in Cairo, Egypt, where the president laid out his stances on a variety of issues in the Muslim world. They include his views of the long-simmering Israeli-Palestinian conflict, an overriding conflict in the region.
During this trip, Mitchell met with Israeli Prime Minister Benjamin Netanyahu and Palestinian President Mahmoud Abbas. He made stops in Jordan and Egypt, which both have diplomatic relations with Israel.
Don't Miss
He met on Friday with officials in Lebanon, less than a week after a pro-Western coalition made strides against a Hezbollah-led bloc in parliamentary elections.
The Damascus visit points to a warming up of relations between the United States and Syria.
The United States and the Bashar Assad regime have had frosty relations over Syria's perceived meddling in Lebanon, its relationship with Iran and militant groups Hezbollah and Hamas and the infiltration of insurgent attackers from Syrian territory into Iraq.
The United States withdrew its ambassador from Syria four years ago in protest at the assassination of former Lebanese Prime Minister Rafik Hariri. Washington accuses Syria of being behind the killing of the popular statesman in a massive bombing that also left 22 others dead. Syria denies it, but an ongoing United Nations investigation has found indications of Syrian involvement.
But at the same time, Syria has wanted to have better relations with the United States, and it has engaged in indirect talks with Israel over their differences, especially the Syrian land seized by Israel during the Six Day War in 1967. And Syria has said it wants a stable Iraq.
Mitchell's visit is the highest-profile trip to Syria by a U.S. official since 2005, and it comes on the heels of the Obama administration's diplomatic efforts to re-engage with the Assad government.
The State Department has said that Mitchell's trip will be followed by other U.S. missions -- including a delegation of U.S. military commanders who will discuss joint efforts to combat the Iraqi insurgency, officials said.
Jeffrey Feltman -- an assistant secretary of state who is the department's top official on the Middle East -- and National Security Council official Daniel Shapiro traveled to Damascus twice in recent months in an effort to improve ties with Syria.
The talks, which have been the start of more regular contacts between Washington and Damascus through normal diplomatic channels, focused in part on getting Syria to seal its border with Iraq. Washington has criticized Damascus for turning a blind eye to foreign fighters traveling through the country into Iraq.
The United States also wants Syrian support in achieving a comprehensive Arab-Israeli peace agreement, and it appears willing to nurture indirect peace talks between Syria and Israel that began last year over the disputed Golan Heights. Those talks were suspended after Israel's three-week offensive in the Gaza Strip that ended in mid-January.
"It's our view that...Syria can play an important, constructive role in the region," Feltman told reporters in March.
At that time, Feltman hit home the administration's regional approach to Middle East peace.
"The United States wants a comprehensive Arab-Israeli peace," he said, saying Mitchell's mandate is to achieve a "comprehensive Arab-Israeli peace."
Such an effort "means that there will be a Syrian-Israel track at some point," and, Feltman said, "we do want to see forward momentum on the Syrian-Israeli track at the time when the parties are ready for this."
Damascus wants the United States to become involved if the talks resume. And Washington is interested in getting Damascus to use its influence with the Palestinian militant group Hamas, which Syria views as a legitimate resistance movement and whose leaders take refuge in Syria.
In another sign of reconciliation, officials have said the United States is considering reappointing an ambassador to Syria. A charge d'affaires has been the highest-level American diplomat in Damascus since 2005.
The United States also is interested in building a new embassy in Damascus, and Eric Boswell, assistant secretary of state for diplomatic security, recently traveled to Syria to examine the security situation there.
E-mail to a friend

CNN's Elise Labott contributed to this report
All About U.S. Embassy in Syria • Syria • George Mitchell