TEHRAN, Iran (CNN) -- Iran's supreme leader gave his blessing to the outcome of the country's presidential election Sunday despite widespread allegations of fraud, calling the results "a divine miracle," the official Islamic Republic News Agency reported.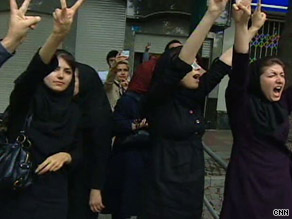 Protests continue Sunday for a second day in Tehran over the results of the presidential election.
Ayatollah Ali Khamenei said the record voter turnout in Friday's election showed Iranians value "resistance against oppressors," the agency reported.
"Pointing to enemies' massive propaganda campaign to discourage people from taking part in the elections, Ayatollah Khamenei also said there was really a divine miracle behind this elections, given its results that was 10 million higher than any of the previous ones in the 30-year history of elections in Iran," IRNA reported.
Official results showed President Mahmoud Ahmadinejad was re-elected with more than 62 percent of the vote. But the hardline incumbent's leading opponent, former Prime Minister Mir Hossein Moussavi, has disputed the results, and his supporters have fought in the streets with police and Ahmadinejad's supporters since the vote.
In a letter published on Moussavi's Web site, the candidate said he has asked the election authority -- Iran's Guardian Council -- to nullify Friday's results. There were conflicting reports on whether Moussavi had been placed under house arrest, but in a statement Iranian police said that the candidate was not under arrest.
Another opposition candidate said he has asked Iran's Guardian Council -- a body of top clerics and judges that supervises elections -- to investigate.
Former parliament speaker Mehdi Karrubi, who finished in third place with a single-digit percentage of the vote in the official results, asked supporters "to find solutions through legal and civic institutions," according to his political movement's newspaper.
Hundreds of regular and riot police were on the streets as civil unrest continued for the second straight day.
But it was non-uniformed activists, on foot and on motorcycles, who appeared to be behind the most violent incidents.
Don't Miss
Some residents told CNN that these "militias" were forcing their way into the homes of Moussavi supporters.
CNN reporters in Tehran witnessed men, dressed in plain clothes, combing through streets and alleys for anti-Ahmadinejad protesters. Armed with clubs, metal batons and baseball bats, they chased protesters, in some cases beating them.
Sunday's clashes began between police and protesters as Ahmadinejad held a victory rally while opposition supporters claimed ballot fraud.
Riot police fired tear gas and brandished batons to disperse about 100 stone-throwing protesters on Val Asr Street in central Tehran before thousands of flag-waving Ahmadinejad supporters jammed the area to hear his victory speech.
"Elections in Iran are the soundest, the healthiest of their kind," he told his cheering supporters. "Some people inside or outside the country ... say that the vote has been disrupted, there has been fraud. Where are irregularities in the elections?"

Watch Ahmadinejad call Iran "the most stable country in the world" »
Ahmadinejad insisted the nation was united and stood together against unnamed foreign enemies.
"Each and every Iranian is a nation in itself, a pillar on their own, and they stand in the face of all enemies and resist them," he said.
Kaveh Afrasiabi, an Ahmadinejad supporter, told CNN that Moussavi risks damaging the reformist cause in Iran unless he can show something to back up his accusations.
"Unfortunately, three days later, Mr. Moussavi has not done that yet, and one wonders why," said Afrasiabi, an Iranian political scientist and former adviser to Ahmadinejad's predecessor, Mohammad Khatami.
Afrasiabi said Iran has had allegations of voting irregularities after nearly every election since the 1979 revolution that established the Islamic republic. But "We've never had this kind of blanket rejection of the entire process," he said.
CNN witnessed some confrontations in the streets.
"There was this cat-and-mouse game between the rioters and the police," said Samson Desta, a CNN producer who was hit by a police baton. "For the time being, it seems like police have things under control. But we spoke to a lot of students and they're saying, 'This is not going to go away. They may stop us now but we will come back and make sure our voices will be heard.'"
It was the second day of protests in Tehran. On Saturday, thousands of demonstrators, shouting "Death to the dictatorship," and "We want freedom," burned police motorcycles, tossed rocks through store windows and set trash cans on fire.

Watch angry protesters take to streets »
With handkerchiefs and surgical masks shielding them from tear gas, Moussavi's supporters clashed openly with police in a rare challenge to the regime.
Foreign reporters were blocked at every turn from covering the demonstration. And the government reportedly shut down access to networking sites, such as Twitter, making it difficult for information to seep out to the outside world.
Ahmadinejad, who defended his "completely free" re-election, portrayed his win as a victory for the Iranian people over foreign powers on Sunday.
"They believe in a form of democracy that will yield the result that they favor," he said, referring to media outlets that questioned the election results. "The era of having a few countries making decisions for the fate of other countries has come to an end."
Eighty-five percent of the country's 46 million eligible voters went to the polls Friday -- an unprecedented voter turnout, Iran's interior ministry said.
When the ballots were counted, the government declared Ahmadinejad the winner -- with 62.63 percent of the vote.
Moussavi received 33.75 percent.
Moussavi disputed the results, blaming "untrustworthy monitors." Independent election observers were banned from polling places.
"The results announced for the 10th presidential elections are astonishing," he said in a statement. "People who stood in long lines and knew well who they voted for were utterly surprised by the magicians working at the television and radio broadcasting."
A letter published on Moussavi's Web site said the defeated candidate has asked the election authority, Iran's Guardian Council, to nullify the results of the election.
There were conflicting reports on whether Moussavi had been placed under house arrest, but in a statement Iranian police said that the candidate was not under arrest.
Moussavi, a former prime minister regarded as a reformist, is credited with successfully navigating the Iranian economy during a bloody eight-year war with Iraq in the 1980s. And he enjoyed tremendous support among Iran's youth. Iran's population has a median age of 27.
Ahmadinejad, despite being blamed for Iran's economic turmoil over the past four years, maintains staunch support in rural areas.

No matter who won, the ultimate power in Iran is with Khamenei, the supreme leader.
The system was set up after Iran became an Islamic republic in 1979 when the ruling monarchy was overthrown and Shah Mohammed Reza Pahlavi was forced into exile.
E-mail to a friend

CNN's Christiane Amanpour, Samson Desta, Shirzad Bozorgmehr in Tehran and Saeed Ahmed in Atlanta contributed to this report.
All About Mahmoud Ahmadinejad • Iran • Mir Hossein Moussavi • Ayatollah Ali Khamenei