(CNN) -- Former U.S. President Jimmy Carter said Tuesday on a visit to Gaza that he had to "hold back tears" when he saw the destruction caused by the deadly campaign Israel waged against Gaza militants in January.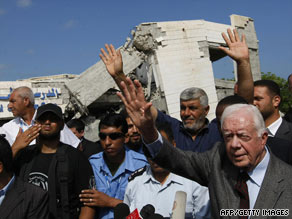 Former President Jimmy Carter visits an American school in Gaza destroyed by Israeli bombings.
Carter was wrapping up a visit to the region during which he met representatives of all sides of the Arab-Israeli conflict.
Among the sites he visited was the American school that was destroyed by the bombings Israel initiated in response to rocket attacks launched from Gaza into southern Israel.
"It is very distressing to me. I have to hold back tears when I see the deliberate destruction that has been raked against your people.
"I come to the American school which was educating your children, supported by my own country. I see it's been deliberately destroyed by bombs from F16s made in my country and delivered to the Israelis. I feel partially responsible for this -- as must all Americans and all Israelis," Carter said at a news conference.
"The only way to avoid this tragedy happening again is to have genuine peace," he added, pointing out that many Palestinians are now fighting each other in the West Bank and Gaza because of their affiliations with Hamas or Fatah.
"It's very important that Palestinians agree with each other, to cooperate and stop attacking each other and to build a common approach to an election that I hope to witness and observe next January the 25th."
After the briefing, Carter headed to a graduation ceremony for students who completed a human rights curriculum provided by UNRWA, the United Nations Relief and Works Agency for Palestine Refugees.
"The human rights curriculum is teaching children about their rights and also about their responsibilities," Carter said in his speech to graduates.
In his speech to graduates, Carter said bombings, tanks and a continuing economic siege have brought death, destruction, pain and suffering to Gaza. "Tragically, the international community largely ignores the cries for help, while the citizens of Gaza are treated more like animals than human beings."
"The responsibility for this terrible human rights crime lies in Jerusalem, Cairo, Washington, and throughout the international community," Carter said.
At a news conference later in Tel Aviv, reporters asked the former president about media reports early Tuesday that said Hamas had thwarted a possible assassination plot against him.
The Israeli daily Maariv, quoting a Palestinian source, said explosives had been placed on a road Carter was due to travel on. Citing the source, the newspaper said it was a plot by an al Qaeda-affiliated group based in Gaza.
"I don't believe it's true," Carter said. "I don't know anything about it.
"None of our people were aware of being rerouted. I asked our driver and I asked the others in charge of making the arrangements, (and) they didn't know anything about it."
Carter said some of his staff asked Gaza's minister of interior, who is in charge of security, and he also was unfamiliar with the report.
Also in Gaza, Carter met with Hamas leaders, who he said "want peace and they want to have reconciliation not only with their Fatah brothers but also, eventually, with the Israelis to live side by side.
E-mail to a friend

CNN's Shira Medding contributed to this report.
All About Israel • Jimmy Carter • Gaza