From Christiane Amanpour
CNN Chief International Correspondent





(CNN) -- There are signs that the ongoing protests against last week's presidential election results may be starting to divide Iran's conservative leadership.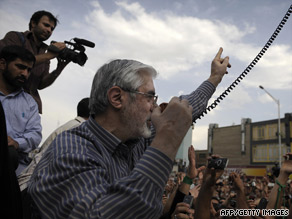 Mir Hossein Moussavi, shown Monday, spoke to a large gathering Thursday in Tehran.
Iran's influential parliamentary speaker Ali Larijani on Thursday blamed the Interior Ministry for a bloody crackdown on civilians, including students at Tehran University, after Monday's protests. At least eight people died in the violence.
Reformist candidate Mir Hossein Moussavi and his supporters have taken to the streets this week urging the government to dismiss the results that gave President Mahmoud Ahmadinejad a second term in office. They are calling for a new election.
Iran's Interior Ministry is aligned with Ahmadinejad, while Larijani is aligned with Supreme Leader Ayatollah Ali Khamenei. Larijani and Ahmadinejad have had a tense relationship in the past.
In addition, key religious conservatives have publicly complained of Ahmadinejad's treatment of the protesters, whom the president described as "football hooligans" and as "dirt and dust" during a rally Sunday after the release of the election results.
Since then, Ahmadinejad has said his comments were taken out of context, according to the FARS News Agency, which is aligned with him.
One of the conservatives critical of Ahmadinejad is Habibolah Asgharoladi, a senior member of a key conservative voting bloc allied with Khamenei, which represents Tehran's traditional bazaar merchants class -- an influential segment in Iranian politics. Asgharoladi has accused Ahmadinejad of treating the pro-Moussavi demonstrators improperly and urged him to treat them with more respect.
Don't Miss
These developments mark an extraordinary rebuke to Ahmadinejad, and a rare public airing of the rift among ruling conservatives.

Watch a report on splits in Iran's conservative establishment »
Other segments of Iranian society are planning to hold rallies, including the Association of Combatant Clerics. The group of influential clerics has requested permission to demonstrate on the streets of Tehran on Saturday, Iran's government-funded Press TV reported.
The protests over the results of the presidential election have taken on a broader significance, according to Hamid Dabashi, a professor of Iranian studies at Columbia University in New York City.
"I am absolutely convinced that what we are witnessing is a turning point in the history of the Islamic republic," he said. "Even if the Islamic republic survives this crisis, it will no longer be as it used to be."
All eyes will be on Friday's sermon by Khamenei at Tehran University, just days after a bloody crackdown there. Moussavi and other reformist leaders are expected to attend. Khamenei's words will be closely watched for a sign of how the government plans to resolve the stalemate.
Tehran University students have described a massive crackdown by pro-government forces early Monday at the university. Some students were detained in the raid.
Khamenei may have miscalculated the mood of the country when he endorsed Ahmadinejad's victory Sunday before the country's election authority made the final call, according to Alex Vatanka, a senior Middle East analyst at IHS Jane's, a provider of defense and security information.
Khamenei has since asked the authority, the Guardian Council, to recount some of the votes. But Moussavi and his supporters are demanding fresh elections.
Behind closed doors, political parties are caught in the middle of a power struggle between Khamenei and former President Ali Akbar Hashemi Rafsanjani.
Rafsanjani's role as chairman of the Assembly of Experts -- which is responsible for appointing the supreme leader and monitoring his performance -- gives him the ability to influence that body's attitudes toward Khamenei, Vatanka said.
That could only add more fuel to the political fire and social unrest in the streets, analysts say.
Some experts say where Iran is headed has a lot to do with its past.
Politics aside, at the end of the day, Iranian expatriates such as Mitra Gholami, who participated in the historic 1979 revolution, feel a sense of deja vu.

Gholami, now a resident of Atlanta, Georgia, fled Iran with her three children 15 years ago.
"I want people to have a normal life," Gholami said. "I want them to have freedom."
E-mail to a friend

CNN's Azadeh Ansari in Atlanta, Georgia, contributed to this report.
All About Iran • Mir Hossein Moussavi • Mahmoud Ahmadinejad • Ayatollah Ali Khamenei • Iranian Revolutionary Guard Corps