(CNN) -- Six days after official election results awarded him victory in Iran's presidential elections and four days after he compared the putative losers to fans of a losing soccer team, unleashing a wave of fury in his country, Mahmoud Ahmadinejad said in a broadcast aired Thursday his remarks had been taken out of context.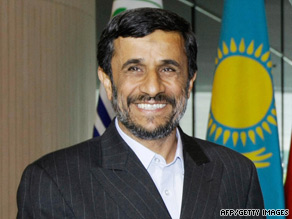 President Mahmoud Ahmadinejad complained Thursday that earlier comments had been taken out of context.
"I was addressing those who started riots and set up fires and attacked people," he told the state-run news agency IRINN in an interview. "I said these [people] are nothing, they are not even part of the nation of Iran. They are alien in relation to Iran."
Ahmadinejad said that the official results, which gave him an overwhelming margin of victory that many Iranians are challenging as rigged, mean that "everybody is victorious ... We are a big family, and we have to put our hands together."
In Sunday's remarks to a rally at Vali-e Asr Square in Tehran, he said, "The Iranian nation is united. In a football match, there are 50,000 to 70,000 spectators. Those whose team has lost are angry and will do anything to vent their anger. Forty million people participated in the elections in Iran. They themselves were the players, and they determined [the outcome].
"Now four or five dirt or dust creeping from the corners may do something. But you must know that the pure river that is the Iranian nation will not allow them to put themselves on display."
His reference to unhappy Iranians as "dirt" or "dust" was seen by many as particularly galling, and he offered a qualified apology on Thursday. "I am sorry about the degree of accuracy of the news that some publicize," he said. "The very clear statement of the president is being distorted."
Don't Miss
He said that he had noted that all 40 million Iranians had emerged as victorious in the elections, not just those who may have voted for him.
And he attempted to include supporters of Mir Hossein Moussavi, the opposition leader who reportedly lost, in his embrace.
"These all are victors of the election forum; they are all dear," he said. "We are all brothers. And I even said the road is open. Everyone should come. And nobody has the right to ask anybody else whom did you vote for. This means this is how much the government cares for the rights of the people."

Watch report on online sites that support Ahmadinejad »
He added, "I am sorry that some people base their movements and political activities on these rumors that are basically untrue, and I hope this will be corrected."
Key religious conservatives have publicly complained of Ahmadinejad's treatment of the protesters in rallies demanding a new vote.

Watch the latest from the streets of Tehran »
One of the critics was Habibolah Asgharoladi, a senior member of a key conservative voting bloc allied with Supreme Leader Ayatollah Ali Khamenei, which represents Tehran's influential bazaar merchant class. Asgharoladi has accused Ahmadinejad of treating the pro-Moussavi demonstrators improperly and urged him to treat them with more respect.
These developments marked an extraordinary rebuke to Ahmadinejad and a rare public airing of the existing rift among ruling conservatives.

Watch report on conservatives' reaction »

Other segments of Iranian society are planning to hold rallies, including the Association of Combatant Clerics. The group of influential clerics has requested permission to demonstrate on the streets of Tehran on Saturday, Iran's government-funded Press TV reported.
Khamenei has asked the authority, the Guardian Council, to recount some of the votes. But Moussavi and his supporters are demanding fresh elections.

E-mail to a friend

All About Iran • Mahmoud Ahmadinejad • Mir Hossein Moussavi • Ayatollah Ali Khamenei • Tehran