By Reza Sayah
CNN






Editor's note: Reza Sayah is one of the few Western journalists reporting from Tehran after the Iranian government placed restrictions on coverage.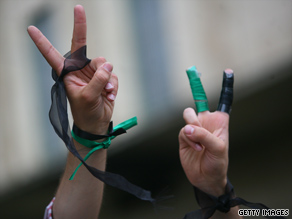 Supporters of defeated presidential candidate Mir Hossein Moussavi demonstrate Thursday in Tehran, Iran.
TEHRAN, Iran (CNN) -- Even sequestered by government order in our hotel, we could still hear the sounds of protests in the night.
Voices shouted "God is great!" from rooftops, from faces hidden in the dark.
Earlier in the day, throngs of protesters took to the streets for a sixth consecutive day to show their support for Mir Hossein Moussavi, the disgruntled candidate who is demanding that the official results of last Friday's vote be scrapped and a new vote held.
This time, many of the demonstrators had replaced the trademark green clothes they had worn all week to show their support for Moussavi with black garments -- in honor of at least eight protesters killed Monday.
Amateur video shot by many of the participants in the demonstration showed thousands of Moussavi supporters in what has become another trademark -- a silent march.

Watch scenes from Thursday's march »
Their cell phones were silenced too, but not by the marchers. Cell-phone service was apparently cut off across this city during the rally.
The marchers gave the police little excuse for a crackdown and, for the third consecutive day, there was no violence.
Two hours into the rally, the silence was broken when Moussavi himself arrived, but few in the crowd could hear him.
That did not appear to matter to most participants, for whom his appearance sufficed. His defiance to last week's election results may have already created cracks within the regime.

See where some of the protests have taken place »
This week, Iran's powerful speaker of Parliament Ali Larijani blamed the Interior Ministry for the violent crackdown on civilians. Analysis: Conservative leadership divided
Another lawmaker blasted President Mahmoud Ahmadinejad for calling Moussavi's supporters "hooligans," a move that appeared to have prompted the president to defend his words on state television. Learn more about Iran's recent history
"I was addressing those who started riots and set fires and attacked people," he said. "Those, I said, these are nothing. They are not even part of the nation of Iran."
Not since the 1979 Islamic revolution has Iran seen such political turmoil.
The pressure is also building on Iranian Supreme Leader Ayatollah Ali Khamanei. The nation is eager to hear what he will say when he speaks at Friday prayers.

If he endorses Ahmadinejad, Khamanei could face the wrath of the massive movement behind Moussavi. If he calls for a re-vote, he could undermine Iran's conservative regime and even his own leadership.
For the first time all week, Moussavi's supporters have not called for a rally on Friday. That means that all eyes will be on Khamanei and all ears on his speech.
E-mail to a friend