By Christiane Amanpour
CNN Chief International Correspondent





(CNN) -- Iran's supreme leader delivered an impassioned defense of the Islamic Republic on Friday, insisting a majority of Iranians had faith in the existing establishment and issuing a "religious ultimatum" to protesters to end days of street demonstrations triggered by last week's presidential election.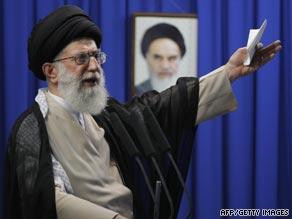 Iran's supreme leader Ayatollah Ali Khamenei said last week's election demonstrated the majority of Iranians trusted the Islamic regime.
Addressing a large crowd at Tehran University, Ayatollah Ali Khamenei said the historic voter turnout of 85 percent legitimized the Islamic system and had been a clear demonstration of the Iranian people's trust in the regime.
He rejected suggestions that fraud or cheating had been involved in President Mahmoud Ahmadinejad's re-election, pointing out that the 11-million vote difference between Ahmadinejad and his principal opponent, Mir Hossein Moussavi, was too large to have been manipulated by vote-rigging.
Khamenei then directly addressed the people on the streets, telling them it was time to end their protests and pursue their grievances through the Guardian Council, which has already said it will recount some of the votes.

Watch Khamenei dismiss claims of fraud »
And he made clear there would not be another election, warning that the consequences of any further violence or public disturbances would be borne by those responsible.
Analysts in Iran suggest this was Khamenei's way of sending a religious ultimatum to the people: Come off the streets, don't defy me and work out these problems through the legal system.

Watch Amanpour discuss Iran »
Despite the political differences between the candidates, Khamenei stressed that all came from inside the establishment; in other words, none were plotting a revolution or a coup against the Islamic Republic.

See where protests have taken place »
"From the Streets of Iran"
Christiane Amanpour shares her first-hand look at the explosive Iran election, Saturday and Sunday night.
7 ET

He also accused foreign governments of agitating against the Islamic Republic. Iranian television last night showed so-called "terrorists confessing" to being paid by the U.S. to come to Iran from Iraq and cause violence.
Khamenei welcomed the live television debates that had preceded the election, which he said had been vigorous and free with each candidate given a chance to put across his point of view.
But he did criticize some of the "emotion and insults" exchanged during the debates and rapped the knuckles of both President Mahmoud Ahmadinejad -- for criticizing former president Ali Akbar Hashemi Rafsanjani -- and his main opponent Mir Hossein Moussavi for what he called misrepresenting Ahmadinejad's record on the economy.

Read about Iran's power structure »
This was a clear call from the man from whom all power flows in Iran and it will be interesting to see how the situation unfolds from here.
Don't Miss

Iranian sources say they believe the real reformers -- Moussavi, former president Mohammad Khatami and others -- will listen to Khamenei and pull back to work out a new strategy and new tactics. One source warns that some radicals committed to fighting the regime may stay out on the street.
The big question is whether Moussavi will call on his supporters to end their demonstrations -- and whether those on the street will listen.
E-mail to a friend

All About Ayatollah Ali Khamenei • Iran • Mahmoud Ahmadinejad • Mir Hossein Moussavi • University of Tehran • Tehran • Ayatollah Ruhollah Khomeini