(CNN) -- The head of the U.N. nuclear watchdog agency says it's his "gut feeling that Iran definitely would like to have the technology" enabling it to possess nuclear weapons.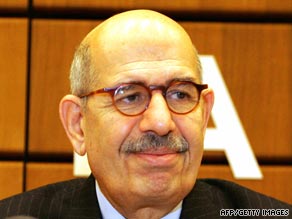 Mohamed ElBaradei, the IAEA's director-general, believes Iran wants nuclear weapon technology.
Mohamed ElBaradei, the director-general of the International Atomic Energy Agency told the BBC this week that Iran wants to "send a message" to its neighbors and the rest of the world: "Don't mess" with Iran and "we can have nuclear weapons if we want to."
ElBaradei made the remarks as political upheaval swept through Iran, where thousands have staged street protests over what they felt was last week's rigged presidential election -- a contest in which the government says incumbent President Mahmoud Ahmadinejad won handily.
Iran consistently says it wants to harness nuclear technology for peaceful purposes, but there has long been great suspicion in the West and elsewhere that Iran is intent on producing nuclear weapons.
The top opposition candidate, Mir Hossein Moussavi, opposed suspending the country's nuclear-enrichment program but said it would not be diverted to weapons use.
"The ultimate aim of Iran, as I understand it, is they want to be recognized as a major power in the Middle East," ElBaradei said.
"This is to them the road to get that recognition, to power and prestige," he said, and "also an insurance policy against what they have heard in the past about regime change, axis of evil, what have you."

He said the issues surrounding Iran need to be resolved "long-term" by addressing its "perception of insecurity."
Asked about voices in Israel who back a military strike against Iran to stop it from getting a nuclear weapon, ElBaradei reiterated his opposition, saying "military action" would turn the region "into a ball of fire."
E-mail to a friend

All About Ayatollah Ali Khamenei • Iran • Mahmoud Ahmadinejad • Mir Hossein Moussavi • University of Tehran • Tehran • Ayatollah Ruhollah Khomeini