By Saad Abedine
CNN





(CNN) -- "Millions voted for President Ahmadinejad and that makes the elections definitive," declared Iran's Grand Ayatollah Ali Akbar Khamenei during his Friday sermon.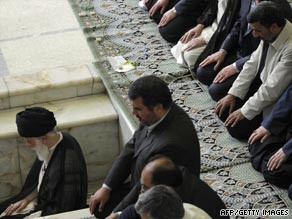 Iran's Grand Ayatollah leads Friday prayers with President Ahmadinejad behind him (whte jacket).
With these simple words addressing Muslim worshippers, he ended speculations about his position following a week of pro-opposition demonstrations claiming vote-rigging and denouncing their candidate Mir Hossein Moussavi's defeat.
Iran's Supreme Leader delivered his much-anticipated speech from Tehran University. It was at that same university in 1979 that the Shah's Savak, the most despised and feared security police at the time, opened fire on a student demonstration sparking the Islamic revolution which led to the overthrow of the Iranian monarchy.
Tehran University was also the scene where more than 1,000 Iranian students clashed with police and religious hard-liners in 1999.
The pro-opposition demonstrations across Iran in the past week and their bloody clashes with police, served as a reminder to many in Iran and outside of those two fateful events.
During his Friday sermon, the supreme leader reassured devout Iranians that the Islamic republic is well, rejecting claims of vote-rigging and assuring his audience that the state "will not bow to the pressure of the street protests."
Arab countries have been watching the latest events in Persian Iran with much anticipation as well.
Arab media were quick to report and analyze the post-election momentum and its ramification to their readers and viewers.
Tariq Hamed, editor in chief of the London-based Asharq Alawsat newspaper, wrote an opinion editorial suggesting that the situation in Iran sent a strong signal that "the battle has just started."
Don't Miss
He explained in his article that the Iranian standoff is far more complicated than vote count and that "the clash is a sharp collision in the main foundations of the Iranian revolution."
In the Saudi-owned Al-Hayat newspaper, columnist Abdullah Iskandar wondered whether Iranian protesters had "a real vote in the Ayatollah's world?"
He said that Iranian official media still refer to the protesters as hooligans carrying out a western conspiracy against the regime.
In the Palestinian-owned pan-Arab daily Al-Quds Al-Arabi, Sobhi Hadidi says Iran is changing and the signs are obvious in the demonstrators' banners on both sides.
Moussavi's supporters are asking "Where is my vote?" he says; while Ahmadinejad staunch backers are pledging their "full obedience to the leader (Khamenei)."
Hadidi then adds: "Amazingly, the popular mood has indeed changed, and Iran is pregnant with change, seeking a new identity."
Hadidi's conclusion is that at the end of the day, it doesn't matter whose voices are louder because, "the votes will end up at the doorsteps of the Grand Ayatollah. That's where everything begins and ends."
The Iranian-backed Lebanese militia, Hezbollah was just defeated in parliamentary elections. The group's Secretary General, Hassan Nasrallah, expressed recently his full support of in Ahmadinejad and promised that "nothing has changed in Lebanon" and "no winds of change will be blowing from Iran."
Nasrallah dismissed Iranian divisions and advised Arabs to avoid commenting on the issue because he said they're ill-informed.
"No one in the Arab world understands how Iran operates" he blasted in a recent speech.
He reassured his pro-Ahmadinejad audience that "Iran will overcome this crisis with ease." In a confident tone he concluded, "People around the world will be very disappointed if they believe otherwise."
Hezbollah's support could have been expressed in more than words. According to many media reports and Online chatter, Iran's volunteer paramilitary forces known as 'Basij', seem to have added some Arabic-speaking members -- suspected of being Hezbollah fighters.
According to these reports, non-Farsi speakers are riding motor scooters and patrolling the streets of Tehran, tracking demonstrators and monitoring their movement.

No matter how long the Iranian election fallout will last or which direction it will take in the next days and weeks, Arabs across the Middle East will keep a close eye on all developments as they unfold.
Linked by geography and political, economic and security interests, they will continue to watch as Iranians demonstrate and make history.
E-mail to a friend

CNN's Senior Editor, Middle East Affairs, Octavia Nasr contributed to this report.
All About Ayatollah Ali Khamenei • Iran • Mahmoud Ahmadinejad • Mir Hossein Moussavi • University of Tehran • Tehran