TEHRAN, Iran (CNN) -- Iranian lawmakers are calling for a review of the country's ties with Britain because of its "interference in Iran's recent post-election unrest," government-funded Press TV reported Monday.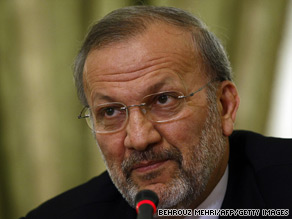 Iranian Foreign Minister Manouchehr Mottaki accused Britain of interfering in the country's recent vote.
Iran's influential parliamentary speaker, Ali Larijani, submitted the request Monday to the National Security and Foreign Policy Commission which called on the Foreign Ministry to review the relationship, the report said.
"The Islamic Republic of Iran favors the expansion of relations with all countries, but will never accept interference of other states in its internal affairs," commission spokesman Kazem Jalali said, according to Press TV.
Britain on Monday said it was withdrawing the family members of its embassy staff members from Iran until the situation there improves.
The British Foreign Office also announced it is advising British nationals to avoid non-essential travel to Iran, according to a statement posted on its Web site.
On Sunday, Iranian Foreign Minister Manouchehr Mottaki blamed Britain for interfering in the elections, saying it had been planning against the vote for more than a year.
"We witnessed an influx of people from the UK ahead of the election," he said, without offering specifics.
Mottaki accused Britain of supporting followers of the Baha'i faith, a religion that originated in 19th-century Persia but which Iran does not recognize.
British Foreign Secretary David Miliband said Mottaki was trying to turn an internal dispute into a battle between Iran and other countries.
"I reject categorically the idea that the protesters in Iran are manipulated or motivated by foreign countries," he said in a statement.

Mottaki also said the West expects a different model of democracy from developing countries.
Last week, Britain summoned Iran's ambassador to the country after Iran's supreme leader, Ayatollah Ali Khamenei, accused Britain, as well as the United States and Israel, of manipulating and undermining the electoral process.
E-mail to a friend

All About Iran • David Miliband