From Mohammed Tawfeeq
CNN





BAGHDAD, Iraq (CNN) -- A series of five bombings killed at least 22 people and wounded dozens of others Monday in Baghdad, the Iraqi Interior Ministry said.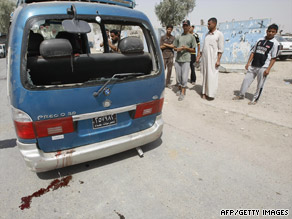 A roadside bomb hits a minibus Monday in Baghdad's Sadr City, leaving a bloody scene with three dead.
At least four people were killed and 20 others were wounded Monday evening when a bomb detonated in a market on the northeastern outskirts of Baghdad, an Interior Ministry official said.
The bomb was attached to a motorcycle in the marketplace in the predominantly Shiite district of Hussainiya, the official said.
Earlier Monday, a suicide car bomb exploded outside the local council office in the Abu Ghraib district in the western outskirts of the Iraqi capital. At least seven people were killed and 13 others were wounded, an Interior Ministry official said.
The U.S. military said the bomb damaged a military vehicle that was providing security for the local council meeting. Four U.S soldiers were wounded, the military said.
Five people were killed and 20 wounded when a car bomb exploded on a commercial street in the Karrad district of central Baghdad about 8 a.m., a ministry official said.
Also, a roadside bomb struck a minibus carrying students, killing three of them. The blast, on the edge of Sadr City in eastern Baghdad, also left 13 people wounded, including five students, the Interior Ministry official said.
Another roadside bomb exploded in an outdoor market in the Shaab neighborhood in southeastern Baghdad, killing three people and wounding 30 others.
Meanwhile, in Mosul, eight people were killed, including two policemen and two soldiers, in three incidents, according to an official with Iraq's Interior Ministry.
In one incident, clashes erupted between Iraqi police and gunmen in central Mosul, leaving five people dead, including two policemen and two gunmen.
Gunmen also attacked a security checkpoint in Mosul with small arms fire, killing two Iraqi soldiers. And gunmen shot and killed a civilian as he stood outside his home in Mosul, according to the Interior Ministry official.
The wave of attacks came two days after the year's deadliest attack when a suicide truck bombing killed about 80 people in the northern Iraqi town of Taza. Iraqi Prime Minister Nuri al-Maliki called Saturday's attack a "heinous terrorist crime."
Al-Maliki called the blast "an attempt to undermine the security and stability and spread a lack of confidence in the capabilities of Iraqi forces who are preparing to take over the security responsibility after U.S troops withdraw from the cities by the end of the month."
Under a U.S.-Iraqi security agreement that went into effect at the beginning of this year, all U.S. combat troops must pull out of Iraqi cities, towns and localities into bases by the end of this month. There had been talk of combat troops remaining in some cities, including Mosul, but the U.S. military said that would be an Iraqi decision. The Iraqi government in May said all combat troops will leave urban areas by the June 30 deadline.

Watch as the withdrawal deadline looms in Mosul »
All U.S. troops are to be out of Iraq by December 31, 2011, according to the security agreement.

Last week, al-Maliki warned of increased political violence in the country, citing a June 10 bombing in the southern town of Bathaa that killed more than 30 people and wounded dozens.
He predicted attempts would be made to undermine Iraqi security forces as U.S. troops complete their withdrawal from cities and ahead of planned national elections.
E-mail to a friend

All About Iraq • Baghdad • Nuri al-Maliki