TEHRAN, Iran (CNN) -- The young woman who last weekend emerged as a powerful symbol of opposition to the Iranian government embraced life in many ways, but there was little about her that would have led her friends to predict she would become a martyr, one of them told CNN.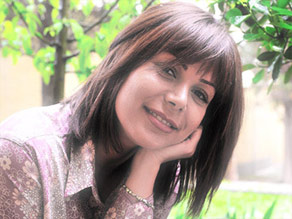 Neda Agha-Soltan, 26, enjoyed music and was looking forward to learning how to play the piano.
Neda Agha-Soltan, 26, rose to prominence within hours after a crudely shot video documenting her final moments was uploaded to the Web shortly after she died Saturday from a single gunshot wound to the chest.
"It's heartbreaking," President Obama said Tuesday in Washington, referring to the video of the woman the world has come to know simply as Neda, which means "divine calling" in Farsi. "And I think anyone who sees it knows there's something fundamentally unjust about it."
Since Saturday, the Iranian government has sought to minimize the impact of her death, but one of her friends on Tuesday described her to CNN in an attempt to inject life and context into what has been -- for much of the rest of the world -- just a few seconds of powerful, if grainy, video.
Much about her remains unclear, but here is what CNN has learned from at least one source:
The second of three children, Neda lived with her parents in a middle-class neighborhood east of Tehran.
She was a happy, positive person. Though she studied philosophy and religion at the Azad Islamic University, she was more spiritual than religious. She also loved music. She once studied violin but had given it up and was planning to take up piano next. She had just bought a piano, but it had not yet been delivered.
Her demeanor was typically calm, even serene, but she had a quirky, playful sense of humor. A friend recalled that once, when Neda was visiting her friend's house, she picked up a white Teddy bear, took off her big, purple-studded earrings and put them on the bear. Then she removed a necklace from around the neck of a friend and put it around the bear's neck, taking delight in the bear's transformation.
She liked to travel, having visited Turkey three months ago with a tour group. And she believed in human rights, her friend said.

See gallery of Neda and the effect of her life »
That may have explained why she was at an anti-government demonstration in Tehran on Saturday afternoon. After being stuck in traffic for more than an hour inside a Peugeot 206 -- a subcompact with a poorly working air conditioner -- Neda and a family friend decided to get out of the car for some fresh air.
Shaky video captured on a cell phone shows her walking with the man, a teacher of music and philosophy, near an anti-government demonstration.
The two are near where protesters were chanting in opposition to the supreme leader, Ayatollah Ali Khamenei, whose calls for an end to anti-government demonstrations have sparked defiance across the nation.
Neda, wearing a baseball cap over a black scarf, a black shirt, blue jeans and tennis shoes, does not appear to be chanting and seems to be observing the demonstration.
Suddenly, Neda is on the ground -- felled by a single gunshot wound to the chest. Several men kneel at her side and place pressure on her chest in an attempt to stop the bleeding. "She has been shot! Someone, come and take her!" shouts one man.
By now, Neda's eyes have rolled to her right; her body is limp.
Blood streams from her mouth, then from her nose. For a second, her face is hidden from view as the phone camera goes behind one of the men. When Neda's face comes back into view, it is covered with blood.
Then, the teacher pleads with her by name. "Neda, do not be afraid, do not be afraid," he repeats.
Another man curses as the first man begins to wail. "Somebody come and get her in a car and take her away!" a voice pleads.
She was taken to a nearby hospital and, within a day, she was buried at Behesht Zahra, the city's largest Muslim cemetery, on the outskirts of the capital.
A friend of hers interprets the fact that her body was released so quickly as a tacit acknowledgment by the government that the killing was carried out by government forces. That theory is supported by the fact that Iran's strict gun-control laws mean private citizens cannot carry firearms, the friend said.
Since her death, public displays of mourning for Neda have been prohibited, the friend said.
A gathering of about 60 people at a mosque was broken up by members of the Basij, the pro-government vigilantes blamed for much of the violence against demonstrators, according to New York Times columnist Roger Cohen, who observed the incident. iReport.com: Share your views on unrest in Iran

Neda's family has not been allowed to post a black banner of mourning outside the family's house, the friend said.
Yet Neda's influence may not diminish soon. Under Muslim tradition, the seventh and 40th days after someone dies are devoted to mourning and reflection.

E-mail to a friend

All About Iran • Tehran • Ayatollah Ali Khamenei