From Ted Rowlands
CNN





(CNN) -- They've entered the United States, yet they are still afraid.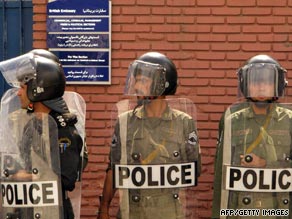 Iranian police stand guard Tuesday outside the British Embassy in Tehran during a protest.
Two women arrived at a U.S. airport from Iran, and despite leaving the violence behind, they didn't want to be identified for fear of their safety.
"It's beyond fear. ... The situation is more like terror," one of the women told CNN.
She was accompanied by another woman in a wheelchair, who said she broke an ankle and thumb during one of the scores of demonstrations that have jolted Iran after the June 12 presidential election.
"We were both just bystanders looking at the people who were chanting 'death to dictator' in one of the major streets in Tehran. And these motorcyclists who are from the regime started coming down hard on people and everyone started running down the street and we got trampled," the injured woman said.
Both said fear kept them from getting help at a hospital.
Don't Miss
"We had a doctor come home and bandage her. The point is, when they are being taken to the hospital they don't actually get there," the first woman said. "Just like the reporters are being told not to report what they really see. Hospitals, administrative levels, are being told to stay out of the public because they're saying, 'You're accusing the regime of being hostile.' "

Watch how Iranian TV is covering the crisis »
CNN, like other international news agencies, has been restricted in covering events in Iran. But amateur photos and videos trickling out of Tehran show demonstrators shouting "death to the Islamic republic" and "down with the dictator" as riot police and members of the Basij, the volunteer paramilitary arm of the Revolutionary Guard, descend on the people.

Watch a student protester make a plea for help to the world »
"These [are] really strange-looking individuals. They were huge, they were wearing helmets, military clothing. They were carrying huge batons. I think they were carrying some sort of gun or something," said one of the women. "We couldn't really identify them as Iranians because we were shouting back 'don't do it' but they weren't saying anything."

Watch how the election has become a civil rights movement »
Iran's election authority, the Guardian Council, declared hardline incumbent President Mahmoud Ahmadinejad the winner of the hotly contested election, prompting supporters of opposition leader Mir Hossein Moussavi to spill into the streets in protests.
But these two women insist it's not just about the election anymore.

Watch impact of social media on Iranian protests »

"People couldn't even speak before and now they're coming out of their homes and chanting 'death to dictator,' " one of the women said. "I even heard 'death to Khameini.' I mean that's just going really beyond the limits," she said.
"I should be crying right now but I'm kind of frazzled, but we basically cry every night over there."
E-mail to a friend

CNN's Paul Vercammen contributed to this report.
All About Mahmoud Ahmadinejad • Iran • Mehdi Karroubi • Mir Hossein Moussavi • Tehran • Mohsen Rezaie