TEHRAN, Iran (CNN) -- Iran's supreme leader, Ayatollah Ali Khamenei, urged parliamentarians Wednesday to tolerate the voices of the opposition, government-run Press TV reported.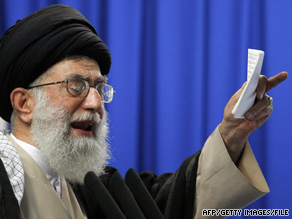 Ayatollah Ali Khamenei urged tolerance during a meeting with parliamentarians, Press TV reported.
Khamenei made the remarks to a group of lawmakers in Tehran, Press TV said.
The report came hours before witnesses said police had broken up a planned demonstration outside the parliament building in opposition to the outcome of the June 12 presidential elections.
But Khamenei added that the Islamic establishment and people "will never give in to coercive demands with regards to Iran's presidential elections," Press TV said. "Ayatollah Khamenei emphasized the significance of law and order and said violating the law would lead to dictatorship.
"The leader argued that the country's affairs must be run according to the law of the land as well as the principles of the Islamic revolution, so that the people's demands are met. Ayatollah Khamenei also urged parliamentarians to tolerate voices of opposition and advised them to avoid factional leanings."
Don't Miss
The newscast added that a spokesman for the Guardian Council, which oversees elections, had declared that "no major irregularities took place" in the presidential elections. The outcome has been challenged as rigged by the opposition.
"After 10 days to scrutinize the results, the council's spokesman said the vote was among the healthiest ever held in the country since 1979," Press TV said.

It added that the spokesman said the council "looked into all the complaints made by the defeated candidates but found no major fraud or irregularities in the electoral process."
Though "minor irregularities" were found, they were not significant enough to change the results, the council spokesman said, according to Press TV.
E-mail to a friend

All About Iran • Ayatollah Ali Khamenei