BAGHDAD, Iraq (CNN) -- Violence in Iraq surged again Thursday, leaving nine people dead and dozens wounded, including several U.S. troops, authorities said.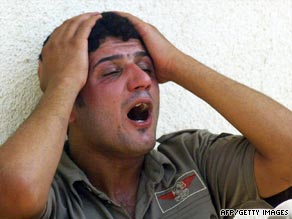 A man grieves as he sees a coffin carrying his relative who was killed in the Wednesday blast at a Baghdad market.
The assaults followed a major blast that killed 72 people and injured about 135 others at a Baghdad market Wednesday, and a deadly blast in the northern Iraqi city of Kirkuk on Saturday that killed 80 people.
The spike in violence precedes a looming deadline for the United States to withdraw combat troops from Iraqi cities and towns, a move spelled out in the American bilateral agreement with Iraq. By June 30, security responsibilities will be left to Iraqis and U.S. forces are to remain only as trainers and advisers.
After a market attack in Baghdad's Sadr City on Wednesday, eight strikes hit Baghdad and one hit the northern city of Mosul between Wednesday night and Thursday night.
In Mosul, at least one Iraqi soldier was killed and 15 wounded in a car bombing Thursday evening, police said.
The parked car bomb that detonated in al-Arabi neighborhood in northern Mosul was near one of the city's main entry checkpoints. Mosul has a strong militant presence and the U.S. military said it is considering the possibility of keeping combat troops there past June 30.
Don't Miss
Also in Mosul, gunmen shot dead a young boy in the al-Muharibeen neighborhood in the northern part of the city, the Iraqi Interior Ministry said.
In Baghdad, at least five people were killed and 30 wounded Thursday when a parked car bomb detonated in a bus station in a predominantly Shiite area of the southwestern part of the city, the ministry said.
A roadside bomb exploded near a bus station and an outdoor market in a neighborhood in southwestern Baghdad on Thursday, killing two people and wounding 28.
Late Wednesday, a roadside bomb exploded during an Iraqi police foot patrol in Baladiya square in eastern Baghdad, killing an Iraqi police officer and wounding three.
Injuries were reported in other attacks:
• Nine U.S.-led coalition personnel were struck by two roadside bombs in eastern Baghdad, the military said.
• At least two civilians were wounded when a bomb attached to a minibus blew up in a Shiite area of southwestern Baghdad.
• Three mortar rounds smashed into buildings on a street in central Baghdad, wounding two people.
• A mortar round struck a commercial part of central Baghdad, wounding four civilians.
The market bombing in Baghdad's Sadr City on Wednesday was widely condemned.
U.S. Ambassador Christopher R. Hill and Gen. Ray Odierno strongly issued a statement Thursday deploring "the senseless deaths and injuries of innocent Iraqi citizens and extend our condolences to their families, friends, and community.
"We join the Iraqi people in denouncing all acts of terrorism and remain steadfast in our support of the people and government of Iraq in their pursuit of peace."
E-mail to a friend

CNN's Mohammed Tawfeeq and Jomana Karadsheh contributed to this report.
All About Iraq War • Armed Forces • Kirkuk • Baghdad