BAGHDAD, Iraq (CNN) -- A market bombing in central Baghdad killed 15 people Friday morning, continuing the spike in violence as the deadline approaches for the United States to withdraw combat troops from Iraqi cities.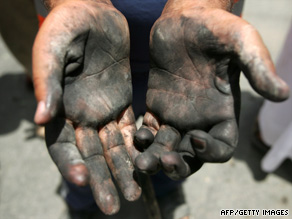 An Iraqi man who helped at the scene of a deadly car bombing this week in Baghdad shows his hands.
The bomb went off in a commercial area where men buy and sell motorcycles, an Interior Ministry official said.
A motorcycle filled with explosives detonated about 9 a.m., killing 15 and wounding 46 others, the official said.
Several bombings over the past three days in and around Baghdad have killed nearly 100 people.
The intensifying violence precedes a deadline for the United States to withdraw combat troops from Iraqi cities and towns, as spelled out in an agreement with the country's leaders.
By June 30, security responsibilities will be left to Iraqis, and U.S. forces are to remain only as trainers and advisers.
Several assaults over the past two days, in which about 25 people died, followed a major blast Wednesday, when at least 72 people were killed and 135 injured at a Baghdad market.
That market bombing in Baghdad's Sadr City on Wednesday was widely condemned.
U.S. Ambassador Christopher R. Hill and Gen. Ray Odierno strongly issued a statement Thursday deploring "the senseless deaths and injuries of innocent Iraqi citizens and extend our condolences to their families, friends, and community.
"We join the Iraqi people in denouncing all acts of terrorism and remain steadfast in our support of the people and government of Iraq in their pursuit of peace."
On Saturday, a blast in the northern Iraqi city of Kirkuk killed 80 people.
E-mail to a friend

CNN's Mohammed Tawfeeq contributed to this report.
All About Baghdad • Sadr City • Raymond Odierno • Christopher Hill