TEHRAN, Iran (CNN) -- Watched closely by police, several thousand protesters moved slowly down a major Tehran thoroughfare Sunday in the first demonstration over the country's disputed presidential election that authorities have allowed in days.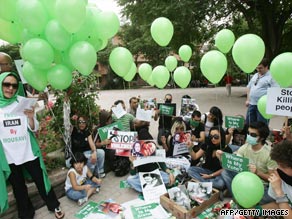 Supporters of opposition leader Mir Hossein Moussavi protest in the Turkish city of Ankara June 27.
About 5,000 people shuffled in silence down Tehran's Shariati Street to the Ghoba mosque, where two of the opposition candidates in the June 12 election were to appear to honor a slain hero of the 1979 Islamic revolution. Authorities rode motorcycles alongside the marchers, who tried to walk slowly. Police beat their batons on their shields to keep them moving, but some demonstrators told officers that they had the legal right to protest in peace.
Former Prime Minister Mir Hossein Moussavi, the leading opposition candidate in the race, attempted to address the crowd at one point via a mobile phone patched through a public-address system. The resulting sound was largely unintelligible, however.
Another opposition candidate, former parliament speaker Mehdi Karroubi, arrived at the mosque on foot Sunday evening after the crowd had rendered the streets surrounding the mosque impassible.

Watch Moussavi at march »
There was a heavy police presence outside the mosque, and as evening set in members of the government-backed paramilitary Basij force watched the crowd and videotaped protesters from a nearby rooftop. At least one man was arrested during the protest by green-uniformed police in riot gear, who beat him with batons before taking him into custody, but people were still pouring off side streets to join the march well into the evening.

Watch amateur video of crowds at mosque »
Sunday's gathering officially was in honor of Ayatollah Mohammad Beheshti and 69 others, including several prominent Islamic revolutionaries, who died in a 1981 bombing. Beheshti was chief justice of the 2-year-old Islamic Republic at the time he was killed.
The protest follows two weeks of protests against the official results of the presidential elections, which President Mahmoud Ahmadinejad won. Iran's supreme leader, Ayatollah Ali Khamenei, called for an end to street demonstrations Sunday.
"I advise both sides not to provoke the emotions of the youth, not to stage people against one another," he said in a speech on government-funded Press TV. "This integrated nation must not be split and a group must not be incited against one another."
Ahmadinejad won the disputed election by a margin of two-to-one over Moussavi, his nearest rival, according to official results. Moussavi and Karroubi said the results were rigged and have called for the vote to be annulled.
Esmaeil Gherami Moghaddam, a spokesman for Karrubi's party, said Sunday the candidate would pursue a re-vote "through legal channels, until the end."
And another member of the country's Shiite Muslim clerical leadership, Grand Ayatollah Abdol Karim Mousavi Ardebili, told an Iranian newspaper Sunday that the Guardian Council -- the body of judges and religious scholars that oversees elections -- should respond to complaints "within a logical framework."
"Rest assured that words of logic will be accepted by the people, and those who speak illogically will not find acceptance," Ardebili told the Iranian newspaper Tahlil Rooz.
Although authorities allowed Sunday's demonstration -- intended for "the pious" -- they intensified their crackdown over the weekend, reportedly seizing wounded protesters from their hospital beds and arresting local British Embassy staff in Tehran. And Amnesty International said Saturday that government-backed paramilitary forces are preventing doctors from getting names from wounded demonstrators or asking how they were hurt.

Watch how Iran has dealt with protesters »
"The Basijis are waiting for them," said Banafsheh Akhlaghi, western regional director of the human rights group.
The clampdown comes ahead of the Guardian Council's Sunday's deadline to file complaints against the results of the disputed election, which has prompted weeks of demonstrations. At least 17 protesters have been killed, according to official statistics, and the actual number may be higher.
Iran has restricted international news agencies -- including CNN -- from reporting inside the Islamic republic. Its intelligence minister, Gholam-Hosein Mohseni Ejei, blamed Western powers for stirring up protests Sunday, saying the British Embassy in Tehran "played a heavy role in the recent disturbances," but describing the effort as one led by the United States.
"The fact that Iran is stable, calm and secure, they're upset with this," Ejei told Iran's Press TV.
British Foreign Secretary David Miliband protested the arrests of embassy workers as "harassment and intimidation of a kind which is quite unacceptable."
"About nine" staffers have been affected, he said, but some have since been released.

"The idea that the British Embassy is somehow behind the demonstrations and protests that have been taking place in Tehran in recent weeks is wholly without foundation," he said.
Last week, Tehran expelled two British diplomats. London responded by booting two Iranians, prompting Iran to recall its ambassador to Britain -- a serious gesture in diplomatic circles -- and threatening to reconsider Anglo-Iranian diplomatic ties.
E-mail to a friend

All About Iran • Mir Hossein Moussavi • Mahmoud Ahmadinejad • Amnesty International