BAGHDAD, Iraq (CNN) -- Iraqis welcomed the Tuesday deadline for American troops to leave their towns and cities with a street festival in Baghdad, though fears of renewed violence tempered celebrations of what their government called "National Sovereignty Day."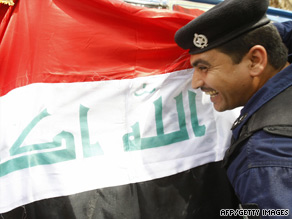 The U.S. military has been gradually pulling its combat troops out of Iraq's population centers for months.
Newscasters on the state television network Al-Iraqiya draped Iraqi flags around their necks as an onscreen clock counted down to midnight Monday. Earlier Monday evening, hundreds of people danced and sang in a central Baghdad park to mark the U.S. pullout.
"I feel the same way as any Iraqi feels -- I will feel my freedom and liberation when I don't see an American stopping an Iraqi on the street," said Baghdad resident Awatef Jwad.
There were no columns of tanks rolling out of Baghdad or thousands of troops marching out of other cities as the deadline approached. The U.S. military has been gradually pulling its combat forces out of Iraq's population centers for months, and they were already gone by the weekend, Pentagon spokesman Geoff Morrell told reporters in Washington.

Watch Iraqis celebrate in Baghdad »
But Iraqi Prime Minister Nuri al-Maliki and other Iraqi and U.S. officials had warned of an increase in attacks around the withdrawal date as remaining insurgents attempt to re-ignite the sectarian warfare that ravaged the country in 2006 and 2007. While many Iraqis publicly said they are glad to see Americans out of their neighborhoods, some were worried about what the future may hold without the U.S. military nearby.
"Without the Americans, we were afraid of each other," said Hanaa Abdul Hassan, a Baghdad resident. "And now that the Americans are leaving, we will be more afraid. We knew the Americans were holding them back, so now I don't know what's going to happen," she said, without specifying who "they" were.

Watch a report on feelings about the withdrawal »
In the past 10 days, a series of attacks -- including numerous bombings that have targeted civilians -- have killed more than 200 Iraqis. Monday, a car bombing in Mosul killed at least nine Iraqi police officers, and Iraq's Sunni Vice President Tariq al-Hashimi urged people to avoid crowded public gatherings unless necessary.

Watch the Pentagon press secretary tell more about the pullout »
But U.S. officials believe Iraq's police and army can keep a lid on the violence, which Morell said was at the lowest point "in the history of this conflict."
U.S. troops rolled into Baghdad in April 2003, less than three weeks after launching the invasion that toppled then-dictator Saddam Hussein. Then-President George Bush said the invasion was necessary because Hussein's government was concealing nuclear, chemical and biological weapons programs and could have provided those weapons to terrorists.
After the invasion, U.S. inspectors found that Iraq had dismantled its weapons programs under U.N. sanctions in the 1990s. But the Americans soon found themselves facing an insurgency from several quarters, including former members of Hussein's deposed Baath party, a Shiite Muslim militia led by anti-American cleric Muqtada al-Sadr and Sunni jihadists loyal to al Qaeda in Iraq.
More than 4,300 Americans have been killed in Iraq since the invasion.
A Web site associated with the Baath Party posted a statement attributed to Hussein's former deputy, Izzat Ibrahim al-Douri, early Tuesday, calling the American pullout a "historic victory" for the insurgents.
"The 30th of June 2009 is your precious and glorious day that embodies your historic victories," the statement said. "For your enemy and the enemy of God decided to flee the battlefields dragging the tails of disappointment and defeat to protect its fleeing soldiers in a few and limited fortified bases, where they think they will find safety from your heroic charges and godly strikes."
Al-Douri, the highest-ranking member of Hussein's government to remain at large, is believed to be a top figure in the insurgency. His statement urged Iraqis to keep fighting Americans "wherever they may be in Iraq."
By mid-2006, the conflict had become a low-level civil war, marked by the daily dumping of bodies in the streets. The conflict began to subside in late 2007, after Washington committed extra troops and supported a turn against the jihadists by Sunni Arab tribal leaders.
Under an agreement signed in the waning days of the Bush administration, all U.S. forces will be out of Iraq by the end of 2011. Most will be gone by August 2010 under the withdrawal plan laid out by Bush's successor, Barack Obama.
The United States believes Iraqi forces are ready to take control of security in the cities, said Christopher Hill, the U.S. Ambassador to Iraq.
"The U.S. forces, in addition to being I think the best fighting forces, are also some of the best trainers in the world," Hill said on Monday. "We've worked very hard with the Iraqi forces, and we think they are ready for this.
Hill added that "some groups would like to undo" the security gains of the last year, but "I think the Iraqis do have a right to feel proud."
The 130,000 U.S. troops who remain are now tasked with supporting Iraqi troops and police, and will be unable to launch operations in the cities without Iraqi consent. A small number of Americans will stay in the cities to train, advise and coordinate with the Iraqi security forces.

"There is still a huge force presence in Iraq that is more than capable of responding to any incident which may come up that the Iraqi security forces ask for our assistance," Morrell said.
There has been speculation in recent months that exceptions would be made to allow some combat forces to stay in some cities, including Mosul. But the Iraqi government said no exceptions will be made, and its troops are ready to take over security.
E-mail to a friend

CNN's Jomana Karadsheh, Michael Ware, Zain Verjee and Tom Boltman contributed to this report.
All About Iraq • U.S. Armed Forces Activities