PARIS, France (CNN) -- The French government says it is "determined" to free a French woman being held by Iranian officials, who accused her of being a spy after she took pictures at recent protests.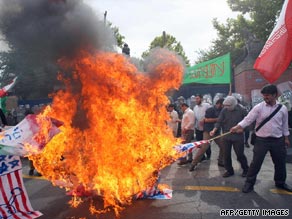 Iranian hardline students burn U.S. and British flags outside British embassy in Tehran on June 23.
Clotilde Reiss, a 23-year-old university student from Lille, was arrested July 1 at the Tehran airport as she tried to leave for France, said Eric Chevallier of the French Ministry of Foreign and European Affairs.
Reiss was trying to fly home after having spent a few months teaching French at Isfahan University in Isfahan, about 340 kilometers (210 miles) south of Tehran, Chevallier said at a briefing Tuesday.
"Tuesday, we publicly demanded her immediate freedom, but ever since her arrest we have been working on many levels for her freedom," he said. Both French Foreign Minister Bernard Kouchner and President Nicolas Sarkozy have asked that Iran let Reiss go immediately.
Massive street demonstrations took place in Tehran after the re-election of President Mahmoud Ahmadinejad. Demonstrators contended the June 12 election that gave him a landslide victory was fraudulent. The government has denied the accusations.
"Who could imagine that a 23-year-old woman could threaten the security of a country like Iran?" Chevallier said. "She spent a few months in Iran, she took a few pictures of the demonstrations like thousands of other people did."
He told reporters that French officials "are neither optimistic nor pessimistic. We are determined to obtain her freedom."
On Tuesday, the Iranian ambassador to France was called to the French Ministry of Foreign Affairs, where the ambassador was told that France wants Reiss released immediately. The French ambassador in Iran sent the same message to Iranian authorities.

"We are trying to make the Iranian authorities understand that this young woman is not a spy and that she must be released quickly," Chevallier said.
He said France is not considering options or actions it will take if Reiss is not immediately released, but is just focusing on securing her freedom.
E-mail to a friend

All About Mahmoud Ahmadinejad • Iran