From Jomana Karadsheh
CNN





BAGHDAD, Iraq (CNN) -- The U.S. ambassador to Iraq escaped unharmed from a roadside bomb that targeted his convoy in a southern province, the U.S. Embassy said Sunday.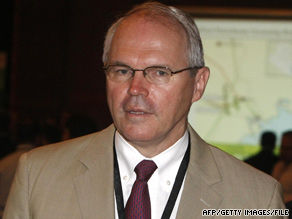 Chris Hill, the U.S. ambassador to Iraq, was unharmed in Sunday's roadside bombing.
A roadside bomb exploded as an embassy convoy was driving through Thiqar province, the embassy said. Neither Ambassador Chris Hill nor any other embassy personnel were hurt in the attack, it said.
The attack came two weeks after U.S. combat troops completed their withdrawal from Iraqi cities and towns. No further details were released, and the incident was under investigation, according to the embassy.
Thiqar is in south-central Iraq, about 240 kilometers (150 miles) south of Baghdad. The Shiite Arab-dominated province was among the first handed over to Iraqi security forces, and was the scene of periodic clashes between Iraqi security forces and a militia loyal to anti-American Shiite cleric Muqtada al-Sadr in 2007.
In June, a suicide car bomb hit a crowded outdoor market in the town of Bathaa inside the province, killing at least 37 people and wounding more than 70.
E-mail to a friend

All About Iraq • Christopher Hill