JERUSALEM (CNN) -- Israeli Prime Minister Benjamin Netanyahu rejected Sunday the Obama administration's demand that Israel halt the planning of a Jewish housing project in a predominantly Arab East Jerusalem neighborhood.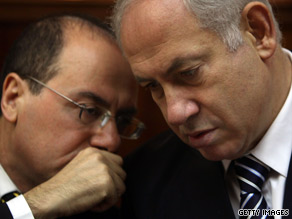 Israeli PM Benjamin Netanyahu consults with an advisor regarding the controversial construction project.
"Our sovereignty over [Jerusalem] cannot be challenged. This means that residents of Jerusalem may purchase apartments in all parts of the city," Netanyahu said at the start of the weekly Cabinet meeting.
"We cannot accept the idea that Jews will not have the right to live and purchase in all parts of Jerusalem."
In a meeting last Thursday with Israeli Ambassador Michael Oren, U.S. State Department officials had demanded the project be stopped, Israeli officials said.
The project is being developed by American millionaire Irving Moskowitz on land that he purchased in the Sheikh Jarrah neighborhood. Moskowitz, an avid supporter of Jewish building in East Jerusalem, purchased the land in 1985.
Don't Miss
The neighborhood, near Jerusalem's Old City, is highly desired by Jewish nationalists. The land for the project includes the Shepherd Hotel, built in the 1930s for a leader of the Arab Palestinian movement. The property is abandoned.
The municipality of Jerusalem issued a statement Sunday saying that the acquisition of the Sheikh Jarrah property was legal and necessary renovation and construction permits were issued.
Netanyahu's statements could add to U.S.-Israeli tensions over the issue of Jewish settlements and housing in Palestinian areas.
Asked about his remarks, U.S. Secretary of State Hillary Clinton declined to comment Sunday on ongoing negotiations. But Clinton, on a visit to India, emphasized the matter is a high priority for President Barack Obama's administration.
In a major speech to the Muslim world delivered in Cairo last month, President Barack Obama said Middle East peace hinged on both Palestinian progress in governance, security and financial sector reforms and Israel lifting restrictions on Palestinian movement and implementing "an immediate and comprehensive settlement freeze."
The conservative Israeli leader, however, remained steadfast.
"I can only describe to myself what would happen if someone would propose that Jews could not live in certain neighborhoods in New York, London, Paris or Rome," Netanyahu said. "There would certainly be a major international outcry. Accordingly, we cannot agree to such a decree in Jerusalem."
E-mail to a friend

CNN's Shira Medding contributed to this report.
All About Benjamin Netanyahu • Palestinian Politics