TEHRAN, Iran (CNN) -- The head of Iran's Revolutionary Guard said Saturday that Iran will strike Israel's nuclear facilities if the Jewish state attacks Iran, a semi-official news agency reported.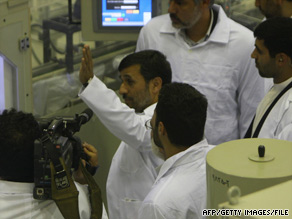 Iranian President Mahmoud Ahmadinejad tours the nuclear fuel processing plant in Isfahan in April.
"If the Zionist regime attacks Iran, we will surely strike its nuclear facilities with our missile capabilities," said Gen. Mohammed Ali Jaafari, according to the Iranian Labor News Agency, referring to Israel.
"Our missile capability puts all of the Zionist regime within Iran's reach to attack," Jaafari said, according to ILNA.
The military chief said calls against Iran's nuclear program, which Tehran maintains is for peaceful purposes, are part of the "psychological war that the West has launched against Iran."
Iran has refused international calls to suspend its production of enriched uranium, which it insists will be used to fuel civilian nuclear power plants.
Jaafari has said in the past that any strike against Iran's nuclear facilities would be regarded as the beginning of war.
"We have no illusions whatsoever as to the hostile intentions of the theocratic radical regime in Iran," said Mark Regev, the spokesman for the Israeli Prime Minister, about Iran's threat.
Israel, which regards Iran's nuclear program to be a considerable threat, is widely believed to have nuclear weapons itself.
Last month, Israeli Prime Minister Benjamin Netanyahu said a nuclear-armed Iran would destabilize the Middle East and threaten the entire world by triggering an arms race and supplying catastrophic weapons to terrorists.
"The goal is to prevent Iran from developing nuclear weapons," Netanyahu said, adding that most governments in the Middle East, Europe and elsewhere agreed.
"It's not merely an interest of Israel," he said.
Pressed on whether Israel would launch a unilateral attack against Iranian nuclear facilities, Netanyahu said Israel "always reserves the right to defend itself."
He said, "We are threatened as no other people are threatened," he said.
E-mail to a friend

All About Iran • Israel • Nuclear Proliferation • Benjamin Netanyahu