By Charley Keyes
CNN





WASHINGTON (CNN) -- Saudi Arabia on Friday bluntly rejected a call for step-by-step moves toward Middle East peace, an approach supported by the United States.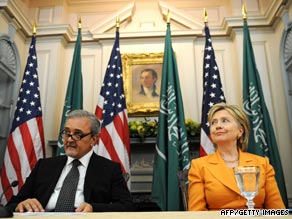 Foreign Minister Saud Al-Faisal and Secretary of State Hillary Clinton talk to the media Friday.
The United States had hoped that the Saudis would announce "confidence-building measures" that would break the current impasse and lead to a new round of talks.
"Incrementalism and a step-by-step approach has not and -- we believe -- will not lead to peace," Saudi Foreign Affairs Minister Prince Saud Al-Faisal said at the State Department Friday after meeting with U.S. Secretary of State Hillary Clinton.
"Temporary security and confidence-building measures will also not bring peace. What is needed is a comprehensive approach that defines the final outcome at the outset."
In a brief question-and-answer session, Clinton rejected suggestions that the Saudi stand is a setback to U.S. efforts to spark new momentum in the Middle East toward direct talks between the Israelis and Palestinians.
"I don't think so at all," Clinton said when asked whether the Saudi statement complicated efforts by her and the U.S. special envoy to the region, former U.S. Senator George Mitchell.
"The efforts we are undertaking are to create a negotiation that will lead to a comprehensive settlement in the interests of both the Palestinian and the Israeli people," Clinton said. "There are many aspects to this, some of them were mentioned -- security, water, borders, refugees, Jerusalem. All of these have to be discussed and agreed to by the parties. Our intention is to try to get agreement from the parties to be part of such a negotiation and begin it and to begin with an intention of ending it and resolving all of the issues in a comprehensive way."
The Saudi foreign minister said the only way forward is by delving into what he called the real issues and not by making gestures. "That is what will make peace," he said.
He said his talks with Clinton had been "productive and fruitful." And he praised Clinton and her husband, former President Bill Clinton, for what he called "their early and robust focus on trying to bring peace to the Middle East."
But he was sharply critical of Israel. "Today Israel is trying to distract by shifting attention from the core issue -- an end to the occupation that began in 1967 and the establishment of a Palestinian state -- to incidental issues, such as academic conferences and civil aviation matters. This is not the way to peace."
Don't Miss
Regarding U.S. opposition to the expansion of Israeli settlements, Clinton offered no new details.
"We are very deep into the discussions led by Senator Mitchell and I don't want to pre-empt or preview what he is doing," she said. "We are working very hard to position the Israeli government and the Palestinian Authority to be able to sit down, and we know there needs to be preliminary work done. ... We feel like we are making headway."
On the issue of Iran, Clinton thanked Saudi Arabia for its support as a close friend and ally.
"I want to underscore publicly what the prince knows and his majesty the (Saudi Arabian) king knows, U.S. commitment to Saudi Arabia's security is unwavering," she said. "We share concerns about the destabilizing role Iran has played throughout the region and the continued expansion of its nuclear program and its support for terrorism."
E-mail to a friend

All About Saudi Arabia • Hillary Clinton • Israel