(CNN) -- Israeli Prime Minister Benjamin Netanyahu Sunday condemned the "shocking murders" of two people in a shooting at a gay club in Tel Aviv.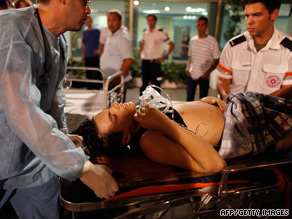 A man injured in the shooting at the club in Tel Aviv receives treatment.
"We will bring [the killer] to justice and treat him with the utmost severity of the law," the prime minister said at the start of the weekly Cabinet meeting.
At least two people were killed and 11 wounded in the shooting Saturday night, Israeli police said.
The shooter, who was wearing black, entered the club at 10:40 p.m. and opened fire, police spokesman Mickey Rosenfeld said.
They fled the scene on foot and police are conducting a search.
The dead are Nir Katz, a 26-year-old man, and Liz Tarbushi, a 17-year-old girl, Rosenfeld said.
Three of the wounded are in serious condition, according to Israeli ambulance services.
Police are treating the shooting as a hate crime against the gay community, Rosenfeld said.

Netanyahu called for "respect" in the wake of the incident.
"Ours is a democratic state. We are a nation of law," he said. "Ours is a country built on tolerance and we must respect all people as they are."
E-mail to a friend

CNN's Shira Medding contributed to this report.
All About Israel