(CNN) -- U.S. Secretary of State Hillary Clinton on Monday called on Iran to provide information about three missing Americans believed to have been arrested after crossing into northern Iran during a hiking trip.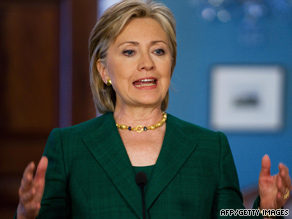 Hillary Clinton says Monday the U.S. hasn't received official confirmation that Iran is holding three Americans.
"As of a few hours ago, we did not yet have official confirmation that the Iranian government or an instrument of the Iranian government were holding the three missing Americans," Clinton told reporters at the State Department after a meeting with Jordanian Foreign Minister Nasser Judeh.
"Obviously, we are concerned," Clinton said. "We want this matter brought to a resolution as soon as possible, and we call on the Iranian government to help us determine the whereabouts of the three missing Americans and return them as quickly as possible."
State Department officials said the Swiss ambassador in Tehran, Iran, met with officials from the Iranian Ministry of Foreign Affairs on Sunday to seek information about the detained Americans. The Swiss represent the U.S. interests in Iran because Washington and Tehran do not have formal relations.
State Department officials said the Iranian ministry denied knowledge of the case but promised the Swiss ambassador it would follow up. If Iran confirms it is holding the Americans, the Swiss ambassador is expected to seek consular access to them, officials said.
Four American friends were hiking through Iraq's Kurdistan region last week before three of them apparently crossed the unmarked border with Iran, where Iranian authorities detained them.

Watch as concern grows the situation could escalate into an international incident »
Kurdish officials identified the hikers as Shane Bauer, Sarah Shourd and Joshua Fattal. The fourth hiker, Shon Meckfessel, stayed behind in Iraq.
"My husband and I are eager for the best welfare and conditions for our son, Josh, and for the other two companions he's with," Laura Fattal of Elkins Park, Pennsylvania, told CNN Radio. "And that is our only concern, his welfare and the best conditions for him."
Meckfessel, a graduate student at the University of Washington, was identified by his grandmother, who told CNN that he stayed behind because he felt sick. Meckfessel met with a consular official at the U.S. Embassy in Baghdad, the embassy said.
"My grandson has asked me not to talk to the media," said Irene Meckfessel of Carmichael, California, before hanging up Saturday.
Iran's state-run media reported that Iranian security forces arrested the three Americans on Friday on charges of illegally entering the country from Iraq's Kurdistan region and that the matter is under investigation.
Friends of the travelers said that the trio have spent time or have lived in Western Europe and the Middle East.
Sandy Close, executive director of the nonprofit Pacific News Service, described Bauer, a photographer whose material occasionally has been posted on her Web site, as a "gifted linguist and photographer with wanderlust for travel and a student of Arab cultures. He's a remarkably talented guy."
On a profile on a travel Web site, Shourd describes herself as a "teacher-activist-writer from California currently based in the Middle East."
Fattal shared his friends' love of travel and learning, and was described as "fiercely intellectual" by his friend, Chris Foraker, who spoke to CNN affiliate KVAL-TV in Eugene, Oregon.
Foraker said he met Fattal during a study abroad program in 2003, and the two worked together at the Aprovecho sustainable living research center in Cottage Grove, Oregon.
The four travelers spent Thursday night at the Miwan Hotel in Sulaimaniya, Iraq, said hotel owner Mudhafer Mohammed.
Bauer, Shourd and Fattal left early Friday in a taxi for Ahmed Awa, a touristic town near Iraq's border with Iran, planning to hike in the mountains there, according to Peshrow Ahmed, spokesman for the security manager of Sulaimaniya.
Ahmed Awa police spotted the hikers at one point Friday, Ahmed said, and warned them that they were near the Iranian border -- which is not marked -- and that they should be careful.
The group was in contact with Meckfessel in Sulaimaniya until about 1:30 p.m. Friday, when they reported they were "surrounded by Iranian soldiers," Ahmed said. No further communication was received.
Mohammed said the hikers said they had come to the area because they heard it was safe, saying they were considering a trip to Ahmed Awa. But he said he advised them against it.

"I warned them many times," Mohammed said.
"When they told me that they are planning to go to Ahmed Awa, I told them, 'Don't go there because it is unsafe for you because you're American and Ahmed Awa is very close to the Iranian border,' " he said.
E-mail to a friend

CNN's Laura Perez Maestro, Arwa Damon, Mohammed Tawfeeq, Susan Candiotti and Elise Labott contributed to this report.
All About Iran • Iraq • Kurdistan • Hillary Clinton