(CNN) -- One is a freelance journalist who intended to cover elections in Iraq's Kurdistan region. Another also has been trying her hand at reporting, and the third is a friend who shared their love of travel.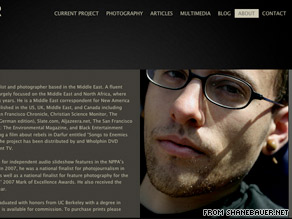 Shane Bauer is one of three American hikers believed to have been taken into custody in Iran.
Shane Bauer, Sarah Shourd and Joshua Fattal -- three University of California-Berkeley graduates arrested Friday after crossing from Iraq into Iran during a hike -- are seasoned travelers with an appetite for interaction with other cultures, friends and associates said.
Bauer, 27, and his girlfriend Shourd, 30, left the San Francisco Bay area last fall for a yearlong visit to the Middle East, where Bauer planned to spend time "absorbing on the ground whatever he could in the Arab world and offered to contribute stories to us," said Sandy Close, executive director of California-based New America Media.
"I think this is a very experienced traveler, a backpack kind of traveler, not somebody who would go to the Ritz Carlton," Close said of Bauer. "[He's] somebody who would go to the hostel, who would operate on a shoestring, as many freelancers do."

Watch friends and colleagues describe the missing hikers »
The pair had been staying in Damascus, Syria, but they and Fattal last week were in Iraqi Kurdistan, where Bauer was planning to report for NAM on presidential and parliamentary elections in the autonomous region, Close said.
"I think he went to [Iraqi] Kurdistan to cover the elections ... and [during a hike] unfortunately didn't know the ground he was walking on well enough to avoid crossing over whatever boundary was there," Close told CNN on Monday.
Iran confirmed Tuesday that its security forces arrested the three Americans on Friday on charges of illegally entering the country illegally from Iraq.
Don't Miss
The three were arrested in the western Iranian city of Marivan, the deputy governor of Kurdistan province, Iraj Hassanzadeh, told the Fars News Agency.
Earlier, Swiss diplomats in Iran and U.S. Secretary of State Hillary Clinton in Washington had urged Iran to provide information on the hikers.
"Obviously, we are concerned," Clinton said. "We want this matter brought to a resolution as soon as possible and we call on the Iranian government to help us determine the whereabouts of the three missing Americans and return them as quickly as possible."
Bauer, a 2007 honors graduate in peace and conflict studies at Berkeley, is fluent in Arabic, Close said. He has written several stories on Iraq and Syria and taken pictures for NAM since the fall, and he's also had stories published by other outlets, including the Christian Science Monitor and the Nation.
Though he knows Arabic and is comfortable with Arab culture, he doesn't understand Farsi and therefore "would not have been able or, I think, interested in going [into Iran]," Close said.
"I think he has a great passion to explore the region where his facility with Arabic and his knowledge of the history and the culture of the Arab Middle East would have led him to go beyond where many professional journalists might have dared to go. [But] ... I don't think he would have wanted to go beyond Iraqi Kurdistan," Close said.
Shourd, a 2003 Berkeley graduate with an English degree, described herself as a "teacher-activist-writer from California currently based in the Middle East" on a profile listed on a travel Web site.
In a statement released Monday, the school called her an "aspiring journalist" who reported a story for NAM this year on the Golan Heights.
Fattal, 27, graduated from Berkeley in 2004 with a bachelor's degree in environmental economics and policy, the university said.
"My husband and I are eager for the best welfare and conditions for our son, Josh, and for the other two companions he's with," Laura Fattal, of Elkins Park, Pennsylvania, told CNN Radio on Saturday. "And that is our only concern, his welfare and the best conditions for him."
Joshua Fattal shares his friends' love of travel and learning, and was described as "fiercely intellectual" by his friend, Chris Foraker, who spoke to CNN affiliate KVAL in Eugene, Oregon.
Foraker said he met Fattal during a study abroad program in 2003, and the two worked together at the nonprofit Aprovecho sustainable living research center in Cottage Grove, Oregon.
"[Fattal] is a really great guy. We had a really good working relationship with him, and we love him a lot and hope to see him home safe soon," said Aprovecho's Jeremy Roth, who spoke to CNN affiliate KEZI in Eugene.
The three and a fourth friend, Shon Meckfessel, spent Thursday night at a hotel in Sulaimaniya, Iraq, before the hike, according to the hotel owner.
On Friday, Meckfessel stayed behind while the others went for the hike near a border town, and Meckfessel was in contact with the three until that afternoon, when they reported being "surrounded by Iranian soldiers," said Peshrow Ahmed, spokesman for Sulaimaniya's security manager.
Meckfessel is a graduate student at the University of Washington. His grandmother told CNN Saturday that he stayed behind because he felt sick. Meckfessel met with a U.S. consular official, the U.S. Embassy in Baghdad said.
"My grandson has asked me not to talk to the media," said the grandmother, Irene Meckfessel of Carmichael, California, before hanging up.
Meckfessel is in the final year of a two-year program called MATESOL, or Master of Arts in Teaching English to Speakers of Other Languages, according to the university.

Friends and colleagues of the missing three said they are anxiously awaiting word of what will happen next.
"My hopes are that Josh and Shane and Sarah arrive home safely and that we can welcome them with open arms and have them return to the life that they want," Foraker told KEZI.
E-mail to a friend

CNN's Dan Simon, Jason Hanna, Arwa Damon and Susan Candiotti contributed to this report.